by Val Khislavsky
As summer approaches, many of you are looking forward to hosting guests in your open-air rooms, and looking for ways to create a welcoming Home Outside for your guests to enjoy. Julie is no exception- she loves to be outside on summer nights and loves to share her home with others. She also loves the light, heat and dance of fire. To complete her vision for her open-air room, Julie is looking to purchase a portable, outdoor fire pit to serve as a focal point. You too can add the element of fire to your outdoor gathering space to give a sense of warmth and magic to your Home Outside.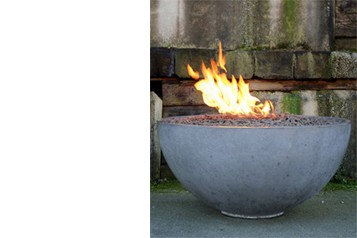 At home in your open-air room, a portable, outdoor fire pit will draw the warmth of the hearth outdoors for the summer season. After a hard day's work in the office or garden, you can put your feet up and relax around a glowing flame and enjoy the play of shadows in the foliage. Not only will your fire pit radiate light and heat to ease the chill of the evening, but it will also draw your family and guests in towards it, creating a central focal point for a gathering that also helps you organize your Home Outside. Round fire pits are particularly suited to this purpose, as they encourage people to encircle them.
Portable is practical:
The portability of your outdoor fire pit is an important consideration- it allows you to adjust your outdoor landscape to serve different groups and amounts of guests, and gives you the flexibility to change the layout of your landscape and experiment with different orientations for your fire pit. Portability is also a practical necessity: you can easily move a portable outdoor fire pit into a covered location to keep the rain out and protect its fire screen (a screen placed over the top of the pit to keep sparks in) from the possibility of rust.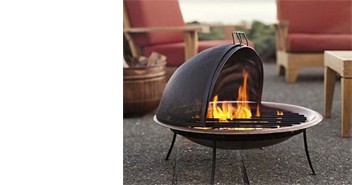 Backyard Firepit™
Options, Options: versatility puts you in control:
The key to being satisfied with your outdoor fire pit is taking the time to make sure you select one that truly fits your needs and is versatile enough to adapt to the changing demands of your lifestyle. Outdoor fire pits are suited to a variety of aesthetic tastes and price ranges. There are also both wood-burning and fuel or gel-burning options–be sure to look into your local outdoor fire regulations before choosing a model. The selections below are only a small fraction of what is available–a google search for "outdoor fire pit" will turn up countless entries to browse through when selecting the perfect addition to your Home Outside.
Wood-Burning Fire Pits:
Backyard Firepit™ (pictured above)
Fuel or Gel-Burning Fire Pits:
Firebowl Hemi 36 (pictured above)
Bells and Whistles:
Outdoor fire pits do come with a number of accessory options. Many come equipped with a grill insert, allowing you to use them as a cooking element as well as a style element. Fire pit lids, often made from copper, are also available to fit some models. They are more substantial than the fire screen and offer a solid covering for your fire pit. Another handy accessory is a fire pit pad, a great idea if you plan to place your fire pit on decking or grass- the pad protects these vulnerable surfaces from errant sparks and stains. Another possibility: a piece of flat fieldstone or small terrace of brick placed underneath the fire pit will keep the grass from scorching.
Fire Pit Accessories:
Let us Know What You Think:
Help Julie decide on a portable outdoor fire pit for her home- do you have one that you just love? How have you used an outdoor fire pit to accent your Home Outside? Do you have any handy tips and tricks? Please share them with us by posting a reply!