By Jennifer Silver, JMMDS
Hello, blog readers! We hope that some of you have been trying out the Home Outside Palette iPhone/iPad app. We'd like to humbly request that you take a moment to submit a rating in the App Store and tell us what you like about the app. We're already at work on many new features and capabilities.
To rate us, just click the "thumbs-up" in the bottom left corner of the Gallery screen (see below).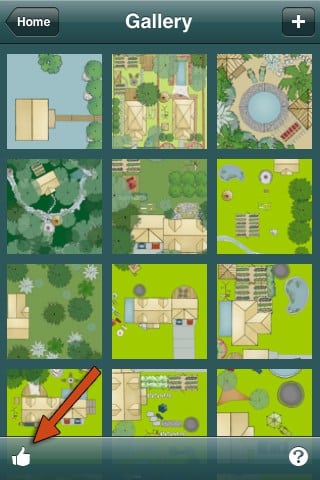 In other news, we'll soon be telling you about some Ball shrubs we tried out (Physocarpus 'Lemon Candy,' I love you!), but for now we just want to give a shout-out to Ball Horticulture, in partnership with Costa Farms, for introducing a product that is long overdue: SoilWrap, a plantable, biodegradable, non-petroleum-based container for plants for purchase. It could replace the hundreds of millions of pounds of plastic used by the horticultural industry each year, in disposable pots that are most often thrown away. SoilWrap won the Greener Packaging Award in 2010; we hope to be seeing more and more SoilWrap packaging in local nurseries.
We're opening a conversation on Facebook: What do you do with your plastic pots? Hop over and tell us!