by Julie Moir Messervy
After spring arrives and the cabin fever passes, you'll long for a cozy garden house to get away in. Here are some images to inspire:
The news of the day is that the groundhog saw his shadow—six more weeks of winter. House-bound as we are in these frigid Northeast temperatures, this is the time of year when men flee to ice-fishing shelters and skaters enjoy cocoa in a warming hut by an icy lake. I long to curl up with a book and a cup of tea in a little house of my own—a far-away place that's just the right size for dreaming.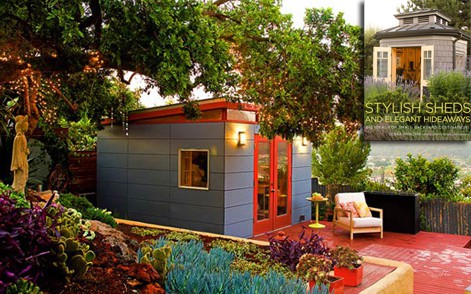 I'm inspired by my friend Debra Prinzing's award-winning book Stylish Sheds and Elegant Hideaways: Big Ideas for Small Backyard Destinations, published last year by Crown Publishing Group. In it she shows a wide range of little houses, diminutive outdoor away rooms set on small sites in lovely landscapes. Some of the sheds featured in Stylish Sheds are shown below, followed by a collection of inspirational little buildings from various designers, architects, and builders. Enjoy this glossary of garden houses for the mind gardener* in each of you.
*From page 58 in my book The Inward Garden: Creating a Place of Beauty and Meaning.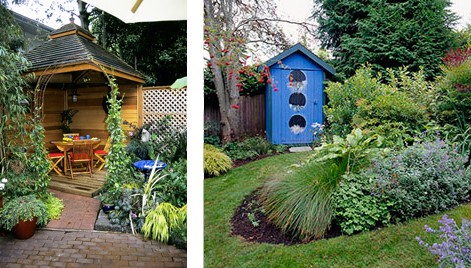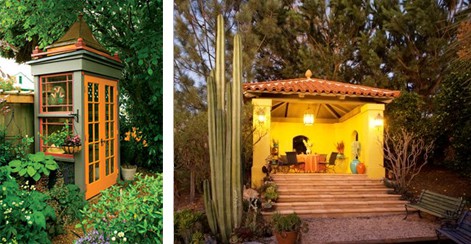 Tree Houses:
L: A Vermont tree house by Harry Hunt Architects; Rtop: Sculptor Dre Wapenaar's Treetents; Rbot: An egg-shaped tree house by German tree house builders Baumraum.
Fun Colors and Shapes:
Tea Houses:
Pre-Fabricated but Customizable: