By Julie Moir Messervy. Photos courtesy JMMDS.
How lucky I've been—I've had more than my share of peak experiences in my working life over these thirty-five years in the field.  Learning the secrets of Japanese garden design from Professor Kinsaku Nakane in Kyoto; traveling the world to research "garden realms" for my first book; building Tenshin-en at the Museum of Fine Arts; creating the Toronto Music Garden with Yo-Yo Ma; opening my studio in Vermont—joyful experiences all.   Then, just two weeks ago on Saturday, January 28th under a brilliant winter sky, I had my most recent peak experience, thanks to the volunteer efforts of 14 Alpha Tau Gamma alumni, six students, and two girlfriends from the Stockbridge School of Agriculture in Amherst, MA.  This hardy group came together to prune the Garden of the Heart of Heaven back to life.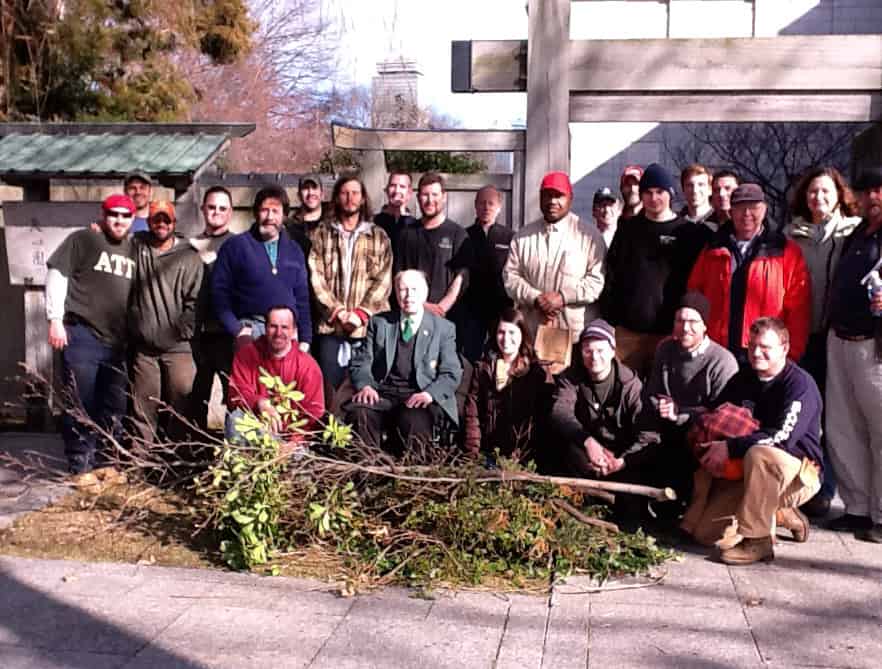 The heroic volunteer pruning team with Jim Mulcahy at center, in blazer.
The quarter-acre meditation garden, designed by Prof. Nakane and opened in 1987, is about to turn 25 years old.  So it is fitting that the process of its rejuvenation has begun.  Rumors that the garden would be removed in the fourth phase of the MFA's master planning process seem to have finally been put to rest; the ATG fraternity's hard work has brought encouragement and impetus to those of us who continue to love the garden, despite its overgrown state.  Thanks to them, I plan to work with MFA staff to ensure that it is well loved, properly maintained, and appropriately curated in perpetuity.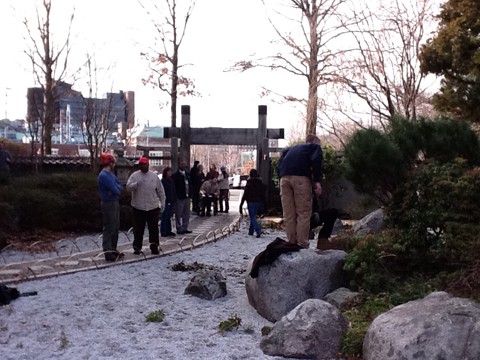 Volunteers gather inside the Kabuki-mon entry gate. The gate was built in Kyoto, disassembled and brought to the MFA, and reassembled by Japanese carpenters. Visitors are meant to look at the garden only from this path and from the terrace, where benches are positioned to allow contemplation of the garden. Julie calls this a "mind journey."
The enthusiastic and effervescent James Edward Mulcahy, ATG '60, spearheaded this entire effort on the Museum's behalf.  He brought a small group of fraternity brothers together in early January to meet with Director of Facilities David Geldart, Facilities Manager Karen Haley, and me to decide how best to proceed.  We walked the garden and assessed the 1,750 plants and decided to put out a call for a legion of arborists to pass under the Kabuki Gate with pruning saws and shears in hand.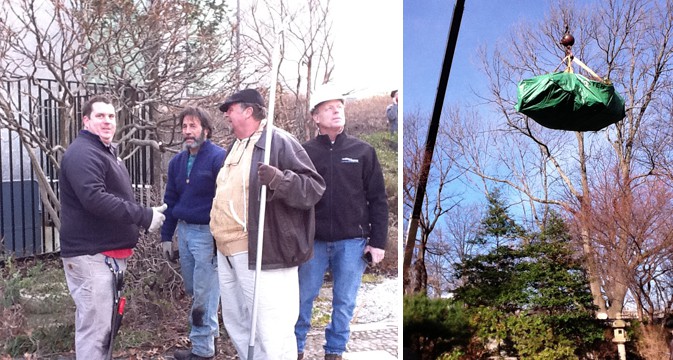 L: Crew members Marc Hansen, Greg Barnett, Steve Spencer, and Bob Maltby. R: Pruned material being hoisted out of the garden.
And come they did! The group was assembled by 8 a.m. and, except for a brief lunch break, worked straight through until 3 p.m.  Here's who arrived to help: Pete Childs ('58), 
Jim Mulcahy ('60), 
Hugh Sweeney ('62) and friend Roberta, 
Robert Stowell Maltby ('74) & son Brian, 
Steve Spencer ('75), 
Greg Barnett ('83), 
Gary Shepherd ('85), 
Mark Olson ('89), 
Jim Anspach ('90), 
Marc Hansen ('97), 
Leighton Allenby II ('04), 
Ben Anderson ('04), 
Nate Cenis ('05), 
Tim Kaija ('09) with friend Abby, 
Steve Copeland ('09),
Josh Lima ('10), 
Ryan McGillivray ('11), 
Ethan Dangelo ('12), 
Nick Henderson 
('13), Mark MacDonald ('13) and Glenroy Buchanan, house father.

L: Pruned Stewartia inside the Tenshin-en wall. The clay tiles atop the wall were baked in Kyoto four times rather than the traditional two, to temper them for the extremes of Boston's climate. R: Ethan Dangelo prunes the interior branches of a cherry tree inside the courtyard.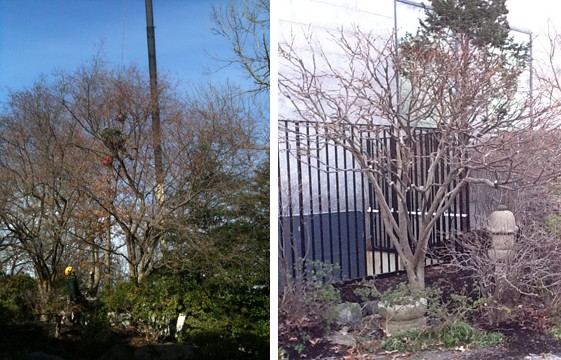 L: A cherry tree (Prunus autumnalis) which had become badly overgrown is removed by crane. R: Euonymous alatus after a drastic pruning. Vertical and crossing branches were removed and the tree opened up to admit light and air.
One member, Bob Maltby, went way beyond the call in his contribution to the cause.   He donated the services of his Maltby Tree Service 38-ton, 129-foot crane, a bucket truck and chipper, and an additional non-ATG 5-man paid crew, removing three overgrown autumn cherries (Prunus autumnalis) from the garden and several large oak and ash limbs that blocked the sunlight overhead.  Bob, along with his son Brian and associate Marc Hansen, have earned my allegiance forever with their huge contribution for the garden.

Stockbridge School freshman Nick Henderson rakes the gravel with a 50-pound rake as the afternoon shadows lengthen.
And ATG is not done yet! Another large group of members has already committed to returning to the garden on April 21st for broad-leafed evergreen pruning, to prune the Enkianthus hedge along the north wall, and to do more precise pruning inside. Thank you, ATG.  This is the beginning of a beautiful and fruitful relationship!
The smiling faces of our amazing volunteers: