by Anna Johansen  
There are few things more wonderful than a freshly cut bouquet of flowers. I have truly never seen a single baby, grumpy grouch, or even an aloof teen not brighten to a smile after being handed a flower. Here's how to start your own cut flower garden from seed: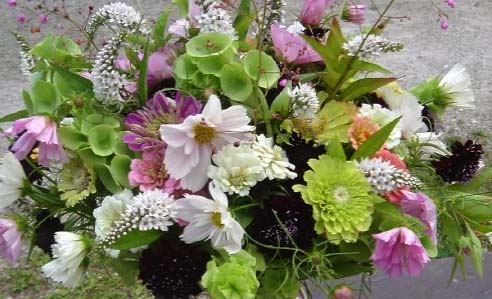 One of my bouquets, featuring Cosmos, Zinnias, 'Black Night' Scabiosas, Bells of Ireland, Gooseneck Loosestrife, and Talinum. Photo: Anna Johansen.
In addition to bulbs, perennials and some shrubs, I grow over 50 varieties of annual cut flowers for market. If you've ever thought of growing a cut flower garden and weren't sure where to start, here's how to grow four tried and true favorites that I simply can't live without.
Sweet Peas:
If you've never buried your face in a bunch of sweet peas, do it as soon as possible. Every time you think of it afterwards, you will instantly feel happy. Guaranteed. Now is the time to sow (much like garden peas), as the soils are cool. Choose a site in full sun with well-drained, rich soil, and with a support system like a fence or trellis. Before planting, soak the seeds for 8 hours and then sow in a furrow 1" deep with seeds 2" or so apart, covering with 1″ of soil afterward. Sweet peas should be thinned to about 5" apart and pinched back to 2-3 pairs of leaves once they have formed 3-4 pairs. This allows for stronger, laterally spreading plants. Help train sweet peas to the fence, but be careful as the stems are as delicate as their perfume. I helped trial sweet peas for Renée's Garden and she has an incredible selection.
Cosmos:
I never had appreciated cosmos as I do now. A quiet and loyal friend, they are among the first to be planted and the last to surrender to frost. They grow happily and easily, don't mind being transplanted, and have lovely ferny foliage that fills up a bouquet nicely. They are now available in the very pretty 'Double Click' and 'Seashells'. Seed generously in flats 5-7 weeks before setting out. Carefully select the strongest seedlings at the true leaf stage and transplant 2-3 seedlings into each cell of 6-packs or each 2-3" pot. Plant 12" apart in well-drained garden soil and stake, as necessary. Too much fertilizer can cause profuse foliage but few blooms so take note. Cut the flower stems (just after buds open and before pollen is set) frequently to promote strong, healthy plants with continuous blooms.
Zinnias:
A true sign of summer, zinnias are my workhorses. I have to try very hard not to add 'Benary's Giant Lime' to every single one of my bouquets. I grow the 'Benary's Giants Mix' which has 11 bright bold colors and the 'Oklahoma Mix', a smaller, softer color mix. Start seeds about 4 weeks before setting out. Zinnias don't like to get cold so a heat mat may be necessary. They also don't like root disturbance so consider planting in peat pots that can be planted directly into the garden, or monitoring closely to transplant seedlings just after true leave stage. Transplant to a full-sun location into rich, fertile, well-drained soil 9-12" apart. If your soil is healthy, the summer isn't one deluge after another, and flowers are cut regularly (about twice a week), your zinnias will stand strong against powdery mildew and be the envy of your neighborhood.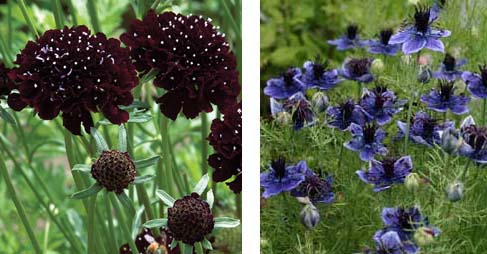 Scabiosa:
The name is a complete injustice to my very favorite of cut flowers. Commonly called pincushion flower for the little hairs that give anyone who stops to smell the flowers a tingly nose, the tall, wiry stems bear a fabulously-scented compact mass of tiny flowers in a range of colors from white, soft pink, coral, blue, and the dark maroon of 'Black Knight'. To start, try a mix like 'Imperial Mix'. Start seeds 4-6 weeks before the last frost. Press the seeds into a flat of lightweight potting soil and do not cover as light aids germination. Transplant into larger cells and stake to support in the cut flower garden. Harvest when flowers are almost fully open and pick often (which won't be hard). Pincushions have a lovely form and a few stems is all you need to create an arrangement with character.
For more: spice up the night with Jasmine Scented Nicotiana, add Strawberry Blonde Calendula to a flower salad, get blinded by love with Exotic Love-in-a-Mist, show off your botanical knowledge with Marble Arch Salvia (the color is a leaf, not a flower!), or get electric with purple Verbena bonariensis, (alas, another favorite.)