by Katharine Gehron
Winter is just around the corner here in the Northeast. All the leaves have finally fallen, and we wake up to a frost most mornings. Fortunately, a few garden plants are still going strong.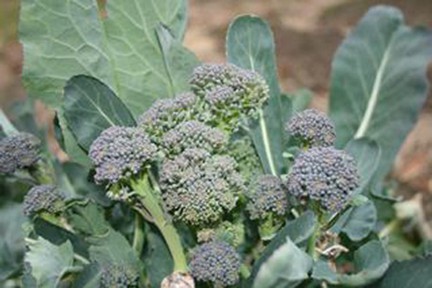 Heads of broccoli, almost ready to harvest. Photo: Steve Jonas
This time of year, in backyard gardens and in fall planters everywhere, we are delighted by purple kales, flowering broccolis, and green, globelike cabbages, along with other cold-hardy members of the Brassica genus, also known as the coles. Other brassicas include turnips, rutabagas, Brussels sprouts, cauliflower, Swiss chard, and kohlrabi.
Unlike most other plants, the brassicas do well in the cold. In fact, they do not reach their peak of flavor until after the temperature has dipped below freezing for the first time. This first frost causes the sugar content of the plant's roots, flowers, and leaves to rise, making for a sweeter vegetable.
A Gilfeather turnip is knobby and purple on the outside and tasty on the inside (L), while broccoli leaves green up the November garden (R). Photos: Katharine Gehron (L); Steve Jonas (R)
Here at JMMDS, we are thinking about the big Thanksgiving meal this week. Here are a few of our favorite ways to prepare brassicas:
Julie likes gently steamed broccoli with a light Hollandaise sauce. She's also fond of Swiss chard cooked with olive oil, a couple of cloves of crushed garlic, a dash of soy sauce, a pinch of cayenne pepper, and a squeeze of lemon juice.
Erica says, "I like to cube and steam my turnips or rutabagas, then mash them with butter, maple syrup, and salt and pepper for a simple and spicy treat. As for red cabbage, nothing beats its beauty in terms of color. I like to chop it up with steamed green beans, shredded carrots, other greens, sunflower seeds, and hard-boiled eggs for a locavore feast."
Bethany's favorite brassica is kale–she chops it up and adds it to chicken soup with a little tamari and hot pepper oil.
Anna likes roasted cauliflower with olive oil, salt, and pepper. She says it "just turns into candy" when it's crispy on the outside and soft on the inside. She also makes a delicious sauce for roasted broccoli or cauliflower by mixing plain yogurt, lemon juice, and coriander or cumin.
Kate enjoys making her mother's recipe for steamed Brussels sprouts with Dijon mustard, honey, and dried cranberries. It's the perfect blend of sweet, spicy, and tart, all mixed together with the slightly nutty flavor of the sprouts.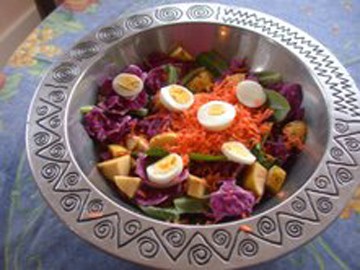 Erica's colorful winter salad with red cabbage. Photo: Erica Bowman
Tell us about your favorite brassica recipes. Happy Thanksgiving, and happy gardening!