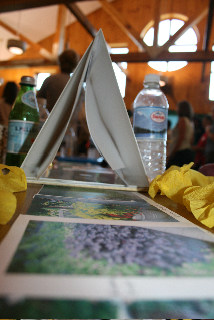 On August 23rd, a beautiful Saturday morning here in Saxtons River, Vermont, a group of 60 people–a mix of homeowners and designers from all around the state and as far away as Ohio, Maryland, and New York City–gathered at Vermont Academy's Chivers Center to spend a day learning about my Home Outside design process. I've discovered, through trial and error over the many years I've been lecturing and offering workshops, that people learn best with 20 minutes of content and then a short exercise that brings the information home. As one participant wrote, "Practicing the hands-on exercises in the midst of lectures really helped cement the concepts explained." Another wrote, "I loved the rhythm of learning and doing—I'm an experiential learner and felt surprisingly empowered by the final exercise."
Wanting to try out as much information as possible from our new book, Home Outside, due out in January of 09, I set up an ambitious schedule for the participants. In less than six hours, they heard six lectures and completed 8 design exercises, even designing a landscape for a partner in only 30 minutes. There's nothing more fun than watching people realize their own creativity. As I always tell them, the difference between them and me is my thirty years of experience and the confidence that brings to me. Otherwise, I truly believe that every person I've ever taught—and we're talking about a lot of people (!)—is way more creative than they ever imagined.
I'm working on putting this workshop online for anyone to learn from. Of course, it's not quite the same thing as being in a room with other participants and me, but I think it would help homeowners create their own home outside and find pleasure once more in the out-of-doors. Please let me know what you think.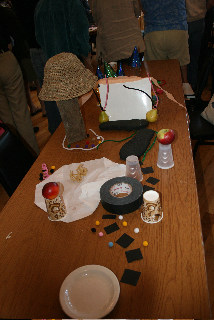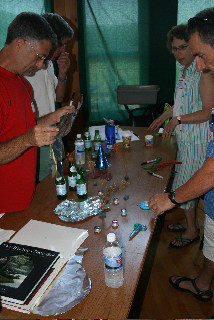 Participant Comments from the Saxtons River Workshop:
Thank Julie for putting on such a great Seminar (for such great causes).
Thank you for creating such a stimulating, educational, creative, visionary context for 60 folks yesterday. You put together a great mix of media, small group, individual, and large group activities. I enjoyed it all and I learned a lot about landscape design, to boot.
Designing the garden for my partner was thrilling.
It was a wonderful workshop! It was very well organized and managed! Julie is just absolutely fabulous!
Enjoyable—Julie is very personable and made a point to speak with each participant—Thank you! I feel freer to try my hand at a more unique design. Every part of the day was super.
The structure of the day—with the exercises in between—has helped rejuvenate my energy for design and I think has helped homeowners and would-be, new designers. Your process and conceptual design techniques I've found most useful over 15 years. Thank you, Julie!
Julie Messervy's discussion of energy and how it can impact and be used to impact your environments was a particular highlight for me.
Outdoor living here I come!