by Val Khislavsky
Blogs are also a great way to create dialogue with other design enthusiasts, allowing users to share and trade tips, preferences, and inspirations. With the recent publication of Home Outside, our own blog has continued to grow, and other design bloggers have reached out to us by featuring JMMDS in their postings. We have been thrilled to be a part of this exchange of information and ideas and would like to take a moment to thank all of the bloggers who have made us a part of their online design community. A few or our blog mentions are below:
Tim and Lorrie from My Design Secrets interviewed Julie about her latest book, Home Outside: Creating the Landscape You Love, and the driving forces behind it. They also gave away copy of Home Outside to one of their lucky readers. Lorrie is an interior designer who started the My Design Secrets Blog in 2008 as "a way to assist the people who love a well-designed home environment, and enjoy the process of doing it themselves." Lorrie continues her interior design work through Lorrie Browne Interiors, while maintaining My Design Secrets with her husband and business partner, Tim.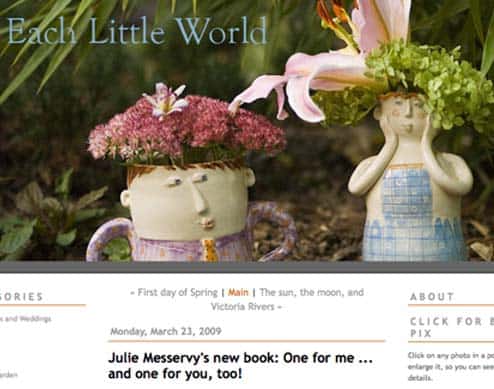 Blogger Linda Brazill took some time to review Home Outside in her blog, Each Little World. Linda writes, "…it's fascinating to see how Messervy applies her basic principles to widely varying locations, climates and budgets. Her latest publication, Home Outside: Creating the Landscape You Love is also the most accessible." She also speaks about the influence that one of Julie's earlier books, The Inward Garden: Creating a Place of Beauty and Meaning, has had on her personal garden design process. Each Little World features a range of subject categories to choose from and links to a number of other interesting design blogs.
Cold Climate Gardening's principal contributor is Kathy Purdy, who blogs about cold climate growing tips, useful plant facts, and what's going on in her own garden in upstate NY. Kathy writes of Home Outside, "Whether you plan to hire help or do it all yourself, this book will help you articulate what you want from your landscape and bring it to fruition."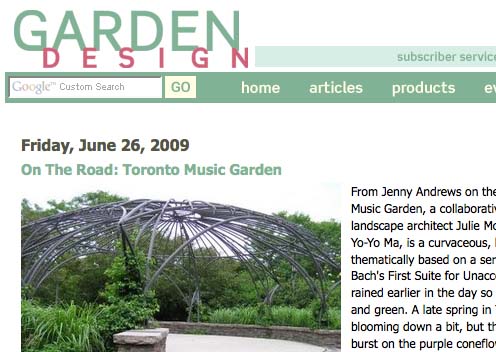 Garden Design Magazine's Editor's Blog, maintained by editor Sarah Kinbar, recently featured Julie and the Toronto Music Garden, which just celebrated its tenth anniversary! Fellow editor Jenny Andrews and staff photographer Jon Whittle traveled to Toronto and made a stop in the Music Garden, finding the "curvaceous, bountiful garden" to be "fresh and green" from a recent rain. Garden Design's Editor's Blog features a range of topics, from garden destinations, to green design and new garden publications.
Barnes & Noble blogger Becke Davis chose Julie's latest, Home Outside: Creating the Landscape you Love, as the July Feature for Barnes & Noble's Garden Book Club Blog. Becke also writes for Barnes and Noble Book Club's Garden Variety Blog and maintains her own blog, The Mysterious Garden Muse.
Heavy Petal: Gardening from a West Coast Urban Organic Perspective, is a blog maintained by Andrea Bellamy, a home and garden writer in Vancouver. Andrea held a book giveaway contest on her blog, awarding a copy of Home Outside to one of her readers. Heavy Petal is chock full of handy gardening tips and focuses on sustainable growing, urban gardening and highlighting unique garden products.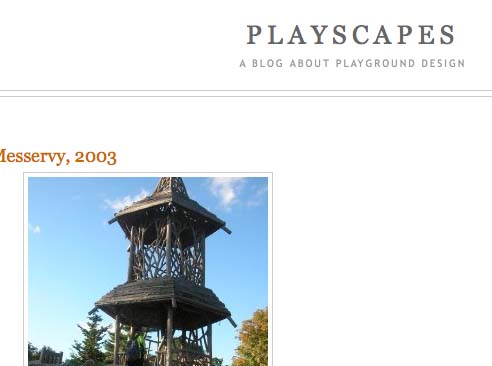 Playscapes, "A Blog about Playground Design," is written by Paige Johnson, who uses many interesting, colorful images to bring her blog posts to life. Her images of one of Julie's Children's Gardens, Weezie's Garden in Wellesley, MA, shows children enjoying the playscape and interacting with its features. Arcady also maintains a number of other blogs, including GardenHistoryGirl.
Do you have a favorite design blog? Tell us about it in the comments section below!