A couple of years ago, we were asked to do a series of simple landscape makeovers to illustrate solutions to every-day problems that average homeowners had to solve.
Here's one that so many people face: the empty front yard.
This two-bedroom starter home sits on a small lot that looks like it's bisected in two: half of it's driveway and the other half is lawn. A few foundation plantings hover near the front door and a wooden fence encloses the narrow side yard — a subject for another day.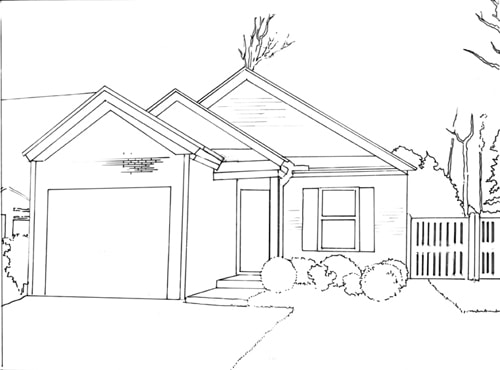 (Illustrations by Bethany Gracia)
JMMDS Design Associate Bethany Gracia and I played with this problem, wanting to solve it in a simple, inexpensive, but effective way. Here's our thinking:
First, we decided to break up the expanse of asphalt by cutting a third of it away and installing a wide brick path, to match the facade of the garage, that leads visitors to the front door.
Second, we added a low retaining wall of brick from the concrete steps to the corner of the house, both to contain plantings with a crisp edge, and to carry the brick theme further on the ground plane. In that planting box, we chose to place an ornamental tree — perhaps a cherry or crabapple, to give height, shade, and some privacy to the front of the house. A mix of deciduous and evergreen shrubs sits at its feet.
Third, we decided to break down the expanse of lawn and make it into a grass path by creating beds planted with an evergreen ground cover on both sides of it. The path leads directly to a gate in the fence. We also added a fruit tree, espaliered against the fence, to soften it and provide the beginning of an edible landscape in the process.
Little changes like these can improve both the functionality and welcoming quality of a front yard. What do you think?
Please contact JMMDS if you would like to engage our services to help with your landscape challenges, similar to the example above. We'd love to help you onsite with a full-service design; we can also offer on-line conceptual design, particularly appropriate for smaller, more modest residential properties and for homeowners who wish to work at their own pace and arrange their own installation. We look forward to hearing from you!
-JMM