By Jennifer Silver, JMMDS
My house may be full of nuts, but my yard has none. This sad state of affairs struck me after reading The Fruit Gardener's Bible: A Complete Guide to Growing Fruits and Nuts in the Home Garden (Storey Publishing, 2011), Leonard Perry's update of Lewis Hill's classic Fruits and Berries for the Home Garden. For some irrational reason, although I grow several types of fruit, nuts always seemed like a daunting undertaking; now, armed with this book, I'm ready to plant some nut trees, and some more varieties of fruit as well.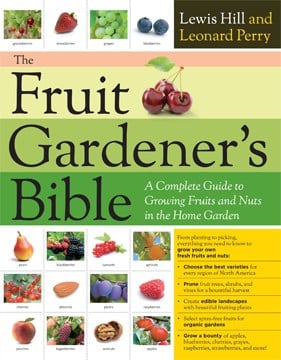 The Fruit Gardener's Bible is a 319-page paperback full of color photographs. Photo: Amazon.
Lewis Hill, legendary Vermont plantsman and author, who passed away in 2008 after many decades of sharing his horticultural expertise and love of plants, wrote Fruits and Berries for the Home Garden in 1992. Dr. Perry, a UVM Extension professor and author, whose blog Perry's Perennial Pages is one of our favorite resources for information about herbaceous perennials, was a longtime friend of Hill's and the perfect writer to update this classic reference book.
As Dr. Perry notes in the book's Preface, recessions tend to spur renewed interest in growing food crops. Accordingly, the new edition is formatted to make it easy for busy gardeners to find the information they need. In addition, the book reflects new developments in sustainable growing practices and improved plant varieties. Although both authors are from Vermont, the book is an excellent resource for gardeners across the country, with information for all regions.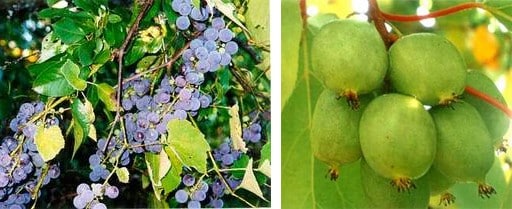 Hill and Perry advise buying plants from a knowledgeable and experienced local grower, where you can be sure that stock is healthy and hardy in your zone. I'm contemplating getting grapevines and hardy kiwis from Elmore Roots Nursery, a reputable Northern Vermont business that gives customers detailed information to help their plants thrive. Photos: Elmore Roots.
Part One, "Getting Started with Fruits and Nuts," addresses what and where to plant, how to select the right varieties for your area, and what to expect during the annual cycle of gardening chores. It includes advice about planting more than one of non-self-pollinating varieties and encouraging pollinating insects. Lush photographs show a gooseberry trained as a standard, containers overflowing with strawberries, espaliered fruit trees, and underplantings of annuals—all appealing to people's growing interest in incorporating edible plants into ornamental gardens.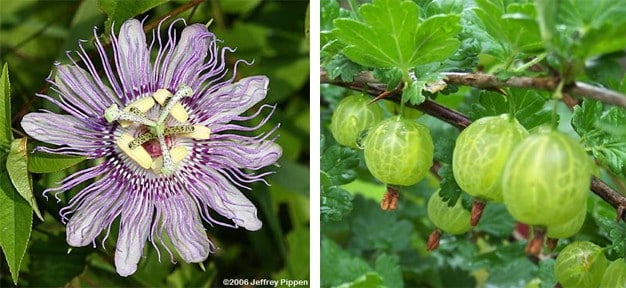 Left: The delicate, otherworldly flower of the passionflower vine (Passiflora incarnata), a perennial native to the southern United States, is followed by a highly nutritious guava-like fruit known as a "maypop." Photo: Jeffrey Pippen. Right: Gooseberries (Ribes uva-crispa) grow on manageably-sized shrubs (4-5 feet tall) which need little care once established and whose attractive leaves provide glorious fall color. They are hardy to zone 3! Photo: CollaboratElaborate.
Parts Two and Three, which deal with growing small fruits (such as berries and brambles) and tree fruits and nuts, respectively, are filled with specific advice for selecting varieties, getting plants off to a good start, and maintaining their health and productivity. For each type of fruiting plant, there is specific information on situating, caring for, fertilizing, diagnosing problems, and harvesting. Also included are lists of lesser-known varieties in different plant categories, with recommendations such as maypops, loquats, medlars, saskatoons, and hardy kiwis.
Part Four, "Growing Healthy Fruits, Nuts, and Berries," deals with maintaining healthy soil, composting, pruning (with clear illustrations), treating diseases, and dealing with insects and other pests. Especially helpful are the large color photographs of harmful insects and visible signs of common diseases. Also useful is the detailed "Diagnosing What's Wrong" chart, which lists symptoms and their possible causes.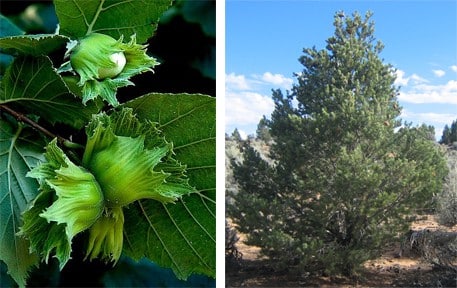 Left: Maybe I'll start with hazelnuts, which grow to only about 15 feet tall and begin bearing in 4-5 years. Photo: Azprod. Right: Lucky gardeners in the western states can harvest their own pine nuts from pinyon pines; the tree shown is a Colorado pinyon (Pinus edulis). Photo: Pinyon-Juniper Woodlands Information Network.
As the title indicates, this book is not for the professional orchardist; it is a terrific reference for the home gardener. I anticipate using it in conjunction with my permaculture bible, Toby Hemenway's Gaia's Garden, which explains how to use plant combinations (guilds) to maximimize availability of nutrients, conserve resources, foil pests and diseases, and improve soil health.
Spring is coming. Grab a copy of The Fruit Gardener's Bible and read it while you still have the time!