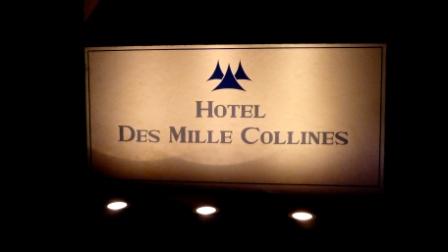 (photo: James Neel)
The hotel name, Des Milles Collines, reflects the French name for Rwanda, [Land] of a Thousand Hills)
by Julie Moir Messervy
This past February, I traveled to Rwanda at the invitation of Reverend Lyndon Harris, the Executive Director of a group called Gardens of Forgiveness. We were there to attend a conference called the Gathering of Forgiveness, which I summarized in a previous posting. One of the highlights of our trip was a visit by the attendees to the famous Hotel des Milles Collines — otherwise known as "Hotel Rwanda" from the 2004 film of that name. The movie's protagonist is a hotel manager, Paul Rusesabagina (played by Don Cheadle) who sheltered, and thus saved the lives of, over 1000 people during the 1994 genocide. It's a heart-rending movie that's a must-see for anyone interested in Rwanda, and the hotel is a must-visit while you're in Rwanda's capital, Kigali.
On one of our last nights in Kigali, about twenty of us bussed over to the Hotel to see it for ourselves. We settled in by the bar and shoved four tables together to keep the group intact. After an hour of drinks and conversation, I realized that "Hotel Rwanda" was the perfect place for an impromptu exercise on designing a garden of forgiveness. So I introduced my tabletop exercise that I often do in my design workshops and asked each of the table groups to create a garden of forgiveness on their table, using anything in the room, on their person, or in their purses as the "garden's" elements. After six days and nights of being immersed in this subject, they jumped right in and got to work. Within ten minutes, each group came up with some wonderful ideas and images that I hope we'll be able to use someday on a site somewhere in Kigali. It was also fun to have the Hotel's present manager and some waiters critique what we did there. Have a look! These videos were created and produced by James Neel, a very talented music and sound designer in Dallas. Thank you, James!
Part 1: http://www.youtube.com/watch?v=ABwpyAdMJkM
Part 2: http://www.youtube.com/watch?v=LSbyAilm5n0
Part 3: http://www.youtube.com/watch?v=RuXOlVXJwEk
Finally, here's a press release for a special evening about reconciliation and forgiveness, sponsored by Gardens of Forgiveness, on April 24th at 7:00 p.m. at St. John's Lutheran Church, 83 Christopher Street, New York:
Hope and Healing Beyond the Genocide in Rwanda and
Lessons for the World Community
Please join us for an inspiring evening as we hear from leaders from the frontline of Rwanda's transformation: Madam Fatuma Ndangiza, Executive Secretary, National Unity and Reconciliation Commission; Joseph Habineza, Minister of Sports and Culture; and Secretary Jean de Dieu Mucyo, of the National Commission of the Fight Against Genocide. And we look forward to the return of the beautiful Mizero Children of Rwanda and world-renowned Rwandan musician and Ambassador of Peace, Jean Paul Samputu, who will perform.