By Julie Moir Messervy
Thanksgiving is my favorite holiday. I love getting together with family, eating a great meal, and taking time to give thanks for the bounties we've been given.
It's also a good time to appreciate the people in one's life by celebrating who they are and what they do. In my case, I want to give thanks for all the talented and wonderful women of JMMDS—Anna, Bethany, Erica, Jana, and Jennifer, and for Val in particular.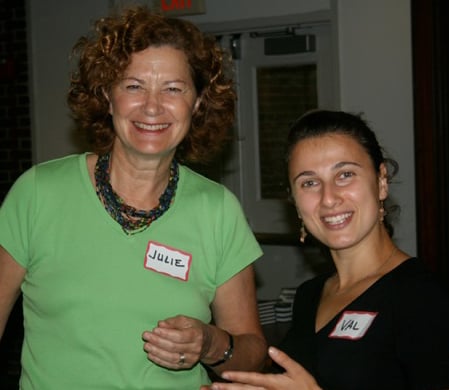 Julie and Val. Photo: JMMDS.
Val Khislavsky has been our Marketing and Special Projects Manager for the past 18 months. She's leaving JMMDS to travel to Argentina for an extended stay. All you blog readers know Val by her deftly written and illustrated posts on all manner of subjects, from her trip to Machu Picchu to Deer Fly patches, to her post last week on Steve Silk's Connecticut paradise.

L: Val at work in the JMMDS offices. Photo: JMMDS. C: The fairy house Val designed for the 2010 Fairy House Tour at The Nature Museum in Grafton, Vermont. Photo: JMMDS. R: Val and her Evening Time Truffles. Photo: Eric Gustafson.
What you probably don't know is just how much Val does behind the scenes. She single-handedly wrote all our e-newsletters, managed social media and website updates, supported our design work, and took on special projects like our new Home Outside Design service; all the while handling interview requests, organizing my lectures, dealing with book orders, and taking care of the myriad administrative details of a busy office and studio. Outside of work, she's a gifted gardener, snow-boarder, soccer player, and chocolate truffle-maker, to name only a few of her many pursuits. We haven't lost her completely: she promises to post reports from Argentina periodically on our blog.
We're excited to introduce Jennifer Silver (Jennifer@jmmds.com), a fine gardener and a writer and editor who will be taking over for Val. You may already know her from her recent post on mulching versus weeding. We are thrilled that she is joining us and feel confident that she can fill Val's size 6 shoes!
Steve and I composed a multi-stanza limerick for Val, which I'll post here, against my better judgment…!
A Limerick for Val
By Julie and Steve
There was a young woman named Val,
Who into our midst she did fall.
So smart and so sweet,
The best person you'll meet.
She's a pro, but also a pal.
Now this Val, she hails from the Ukraine;
To the States, her family and she came.
It wasn't so easy,
But Val isn't lazy—
Even Brown's academics seemed so tame.
After school she came north to our Putney,
A village that only reads Utne,
An alternative place,
Where no one needs Mace,
But where vegetables end up in chutney.
It's clear that she doesn't like winter.
What the hell does she live in Vermont fer?
She does like to ski,
A snowboarder be,
The cold weather, she's just not meant fer.
At the office, she always makes lists—
List after list after list!
She's an organized creature,
Perhaps her best feature…?
No! It's just one of the things that we'll miss.
Another's that Val's never moody,
And you'll notice she's kind of a beauty.
She never gets ruffled,
(Except by a truffle)
She can eat round the clock–what a foodie!
Now Steve, he sure likes to tease her.
And Julie, she just tries to please her.
But who'll eat the chocolates
Steve brings to the office?
For sure, we'll all terribly miss her.
So don't cry for us, Argentina!
Though we know that you're getting a winner.
She'll be back, we know,
Cause she'll miss us so.
Then we'll all have another big dinner!!!