By Julie Moir Messervy
Here are a few of our favorite things that we're giving or have been given (or wouldn't mind being given) as gifts this year.
1.   Hard act to follow: we were all told growing up that the best gifts are those that are handmade by the giver.  No one does a better job at this than our Jana Bryan.  Master baker and chef and crafty person, Jana asked each of us for our favorite flavor.  Mine was almond, Jennifer's cardamom, Anna's Campari, Bethany's coconut, and Erica's was cinnamon.  Lo and behold, this is what we received!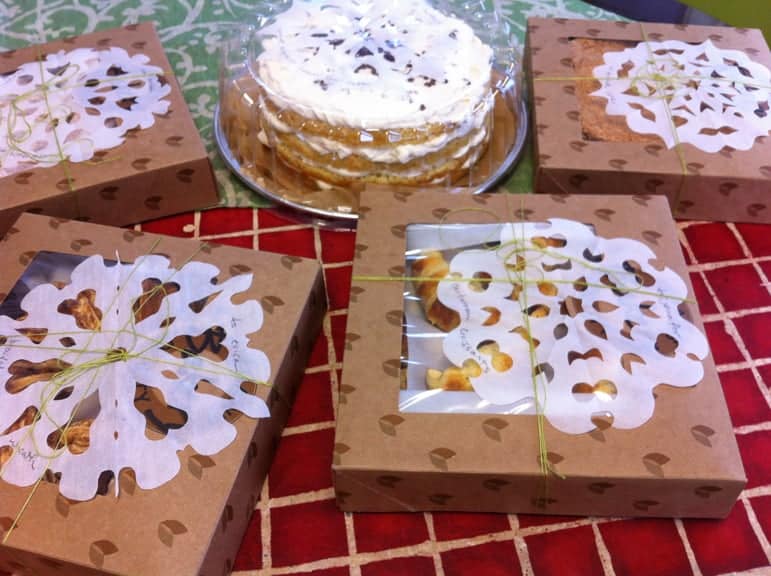 Gifts from Jana's kitchen, clockwise from top: Campari shortbread with orange-rose buttercream; coconut espresso cream layer cake; almond cake; cardamom croissants; and a braided cinnamon wreath. Photo: JMMDS.
2.   Another edible JMMDS favorite is anything from L.A. Burdick in Walpole, NH, purveyor of handmade chocolates, but especially their box of specialty caramels.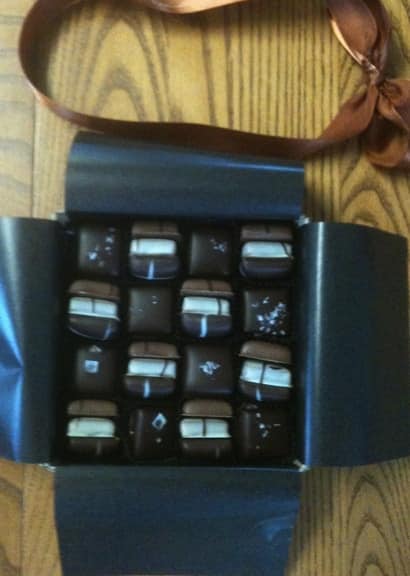 Burdick's caramels, provided for us by a kind client. It should be said that this is not the original box; we have had to return to Burdick's several times for resupply. Photo: JMMDS.
3. I have neither given nor received the Lake Morey Adirondack chair by Pompanoosuc Mills, but it would make an outstanding gift. Of excellent solid construction, this chair holds up beautifully outdoors.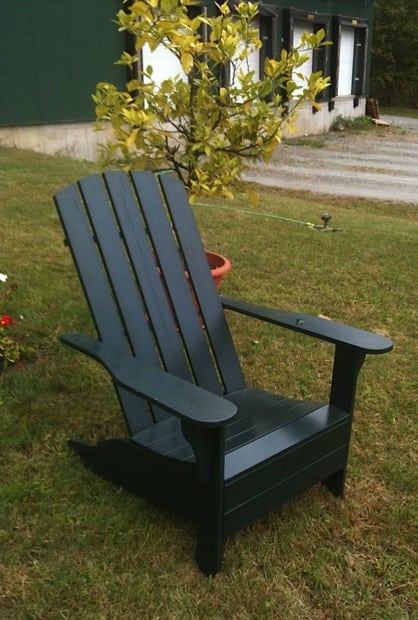 4. How many of you know what a joggling board is? My children used to bounce on one with their cousins for hours. The Old Charleston Joggling Board Co. has been making them for 50 years. The 16-foot-long original Joggling Board (painted Charleston Green, of course) is a fantastic addition to an outdoor living area.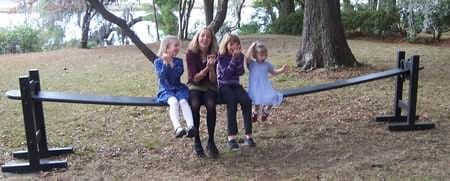 5. Looking for a book for a gardener? Mount Auburn Cemetery: Beauty on the Edge of Eternity (Friends of Mount Auburn Cemetery, 2012) is a gorgeous hardcover tour of the Cambridge, MA, cemetery through the photographic lens of Richard Creek. Another book we're giving this season is The Roots of My Obsession: Thirty Great Gardeners Reveal Why They Garden, edited by Thomas C. Cooper (Timber Press, 2012). I have an essay in the book and thoroughly enjoyed reading the other twenty-nine.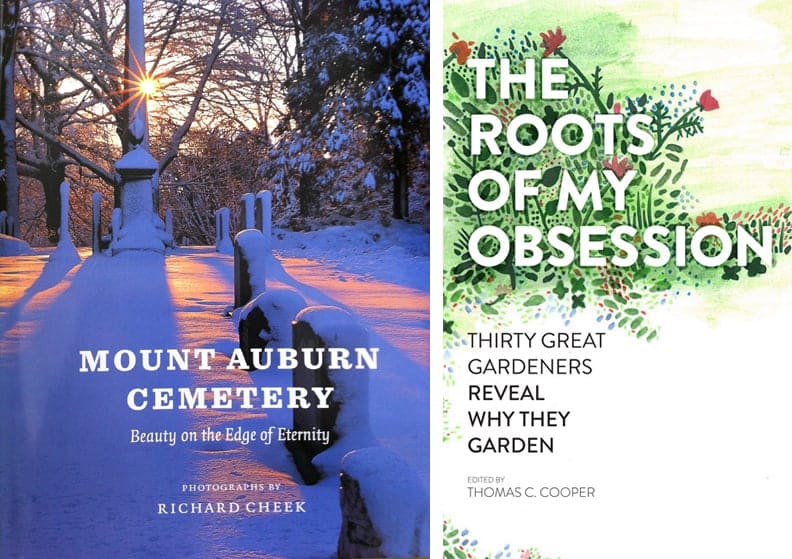 6. Love birds, but hate watching squirrels eat all the birdseed you put out? Hate ugly squirrel-proof feeders even more? Gardeners' Supply is selling these great-looking and affordable Globe Cage Feeders.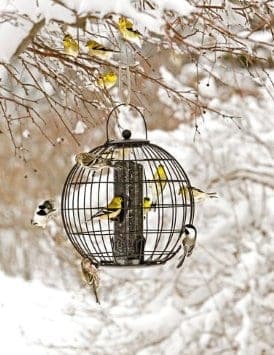 7. After saving up for three years, I gave my husband Steve a special gift: the Forno Bravo Strada 60 tailgate pizza oven. Given the fact that he is a marvelous baker, it is not without personal benefit to me!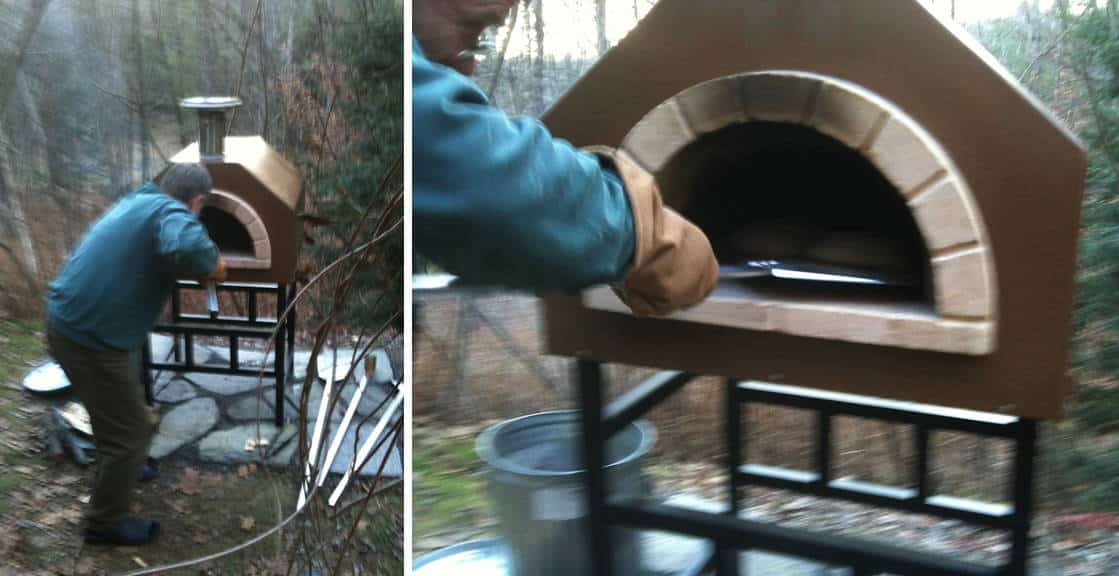 Steve baking bread in his Forno Bravo Strada 60 pizza oven. Photo: JMMDS.
8. A gift that Steve recommends for the baker in your life: The Frieling Brotform (dough rising basket). These traditional European bread rising containers give the perfect form and texture to your bread, with a delightful crunchy crust. Steve got his at King Arthur Flour's wonderful store in Norwich, VT, but they are no longer available there; try Amazon.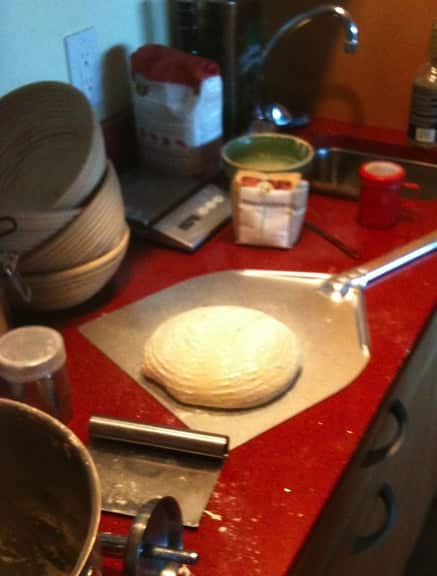 A perfectly formed loaf awaits its turn in the Forno Bravo pizza oven. In the background is Steve's prized stash of dough rising baskets. Photo: JMMDS.
9. Here are a couple of stocking stuffers for last-minute Santas: the Rapitest Digital Soil Thermometer so the gardener knows just when to get out and planting in the spring, and the Norpro Triple Blade Herb Scissors for chopping herbs directly into the pan or atop a dish for garnish.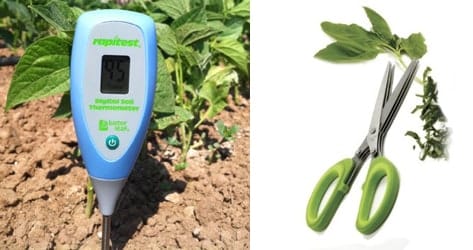 10. And finally, if you want to give the gift of landscape design, there's the Home Outside online landscape design service, the Home Outside Palette app for iPhone and iPad, and the book which inspired both: Home Outside: Creating the Landscape You Love.
Happy holidays to all of you, from all of us at JMMDS!