By JMMDS
A holiday gift blog post has become an annual tradition at JMMDS. Here's what we're giving (and hoping to receive!) this holiday season.
Julie
This year JMMDS has given the gift of beautiful wreaths from Lands End to our treasured clients. Thanks to the thoughtfulness of our public relations consultant, Suzanne Fedoruk, this very wreath arrived at our own doorstep on December 1st. With its sprays of juniper with their blue berries and twigs of eucalyptus, our studio was soon filled with the scent of Christmas. Everyone who has received one loves it.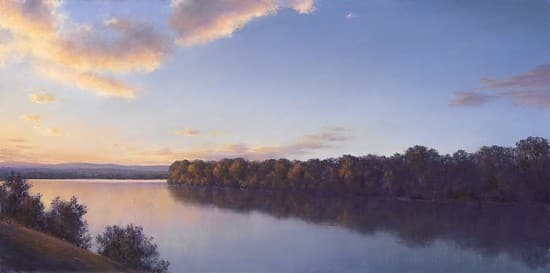 Another gift I'm giving this year is that of garden art. Our niece Christine Labich is a marvelous landscape painter who combines a background in evolutionary biology and ecology with a love of landscape design. Her pastels marry a precise eye for detail with attention to overall composition and color. As a thank-you to our major clients whose projects are completed (and sufficiently grown in), I have commissioned an original painting of their landscape, as a way to "look again" at the world we create for them. As Chris says so eloquently:
"I think that art has the capacity to ask us to look again at the world we live in. The land, air, water, plants, and animals that surround us are not only aesthetically evocative, they are part of what keeps us alive, and they are valuable in themselves. In choosing to paint the landscape, I am asking us to look again with our eyes and our hearts."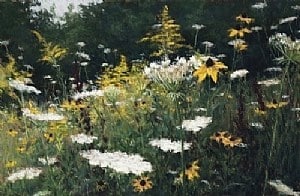 Bethany
This year we're proud to be giving framed one-of-a-kind paintings by my two favorite budding artists. Priceless. (Thank you, Main Street Arts!) I'd be honored to receive them, too. [Ed. note: Bethany has two adorable little girls!] I would also be thrilled to receive a sewing machine, along with some basic instruction. My mother once told me, "A woman should never learn to sew," and I understand where that thinking comes from, but I appreciate and long for the freedom of being able to create (and repair) bed and window coverings myself! Isn't that the ultimate domestic bliss?!

L: Some of the original framed artwork that Bethany's lucky relatives will be receiving. Photo: Bethany Gracia. R: The coveted machine. Photo: Singer.
Anna
For the aspiring urban homesteader, resourceful foodie or garden junkie on your list, I suggest giving a subscription to Wilder Quarterly, a Brooklyn-based publication that is not only visually and tactilely rich, but offers a condensed version of all the things that I love.  I became acquainted with Odyssey Bulbs and their offerings of hard-to-find geophytes like Allium obliquum, savored a plant profile of cheddar cauliflower, and now have photo illustrated how–to's from building a modular cold frame to growing and crafting blends for teas.  Also included is a seasonal calendar of national garden related-events and recipes from caramelized carrot and brown butter puree to lacto-fermented dill pickles from Vinegar Hill House.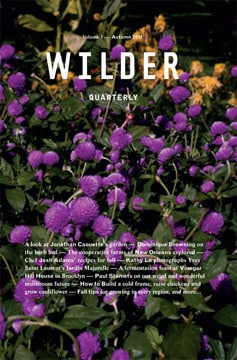 I particularly loved Trucks Gone Wild, the portrait of Truck Farm, a mobile CSA that deployed insufficient garden space, green roof technology and old truck beds into a burgeoning business.  Plus, it's FSC and zero printed and a portion of the subscription is donated to the Fresh Air Fund (two gifts in one!).
Pages from the Autumn 2011 issue of Wilder Quarterly.
Jana
Since I enjoy gardening and growing things, often I like to give paper-whites or amaryllis… I found this herb garden kit online the other day which looks like a great gift! (One year, I gave my father a composting kit… I'm not sure he was thrilled.) Not everyone has a green thumb or wants a gift that requires that they "do something," so this year, less work for everyone…I am making cookies. It's work for me, but I love baking. I have a favorite recipe that combines my love of baking with one of my favorite garden plants – rosemary. Rosemary Shortbread Cookies sound like an adult treat – and they are – but I have found my 9-year-old daughter stealing one every time she walks past the jar! My original recipe comes from Farmhouse Cookbook by Susan Herrman Loomis, and calls for a half-cup white or brown rice flour in additional to the all-purpose flour…but make them as you'd like, they are sure to be loved. I am wrapping them up in small waxed-bag packages, tied with yarn and a sprig cut from my own houseplant.


Rosemary shortbread cookies. Jana brought these into the studio and…oops! Where'd they go? Photos: Jana Bryan Wunderle.
Another fun suggestion: this upcycled wine-bottle hydroponic herb-planter at Uncommon Goods.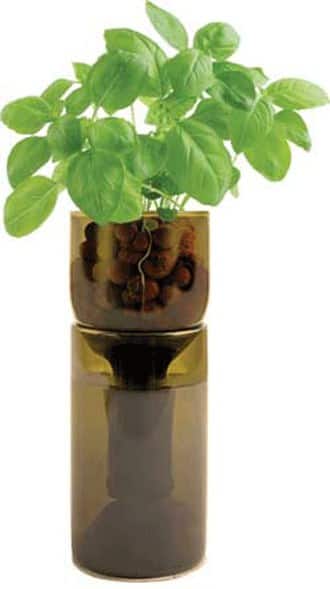 Growbottle. Photo: Uncommon Goods.
Jennifer
I'm giving the children in our extended family their own ornament storage boxes, each containing one Christmas tree ornament. I plan to add to the collections every year, so that each child will have a little stash of tree ornaments when it's time to go off into the world on their own. I can buy special one-of-a-kind ornaments when I come across them, and other years I can make homemade ornaments, which I love to do.
I also can't let a gift round-up go by without mention of books I hope to give and receive! Here are a few:
And don't forget these other possibilities: signed copies of Julie's books (we can wrap and mail them for you), our iPhone landscape design app, and our Home Outside online landscape design service!
Please share your gift ideas with us in the Comments! We wish all of you a very happy and peaceful holiday season.