by Val Khislavsky
Join us in celebrating Julie's GWA Gold Award for Home Outside: Creating the Landscape You Love and learn what else JMMDS has been cooking up!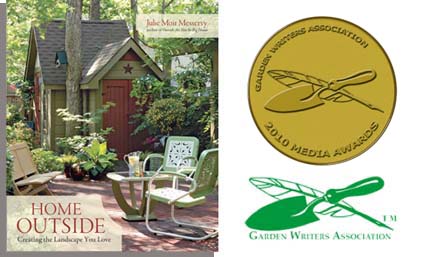 Home Outside and the GWA Gold Media Award.
This past Monday, Julie was honored to receive the 2010 GWA Gold Media Award for best writing for Home Outside. Given by the Garden Writers Association, of which Julie is an active member, the award recognizes the talents of GWA members in the areas of writing, photography, graphic design, illustration and electronic media. A full list of award winners will soon be available on the GWA website.

The GWA Symposium included a trip to the Dallas Arboretum, whose Hardy Palm and Tropical Collection is above. Logo: GWA; Photo: Dallas Arboretum.

Award recipients were announced at the gala GWA Awards Banquet, held at Union Station in Dallas, TX. Julie was accompanied by her son, Max, as she and other GWA members from near and far gathered to honor each other's work. The banquet also marked the culmination of the 2010 GWA Symposium, which boasted many informative sessions, garden tours, and special events.
Julie would like to thank everyone who was a part of making Home Outside happen: Senior Editor Peter Chapman from The Taunton Press and his great staff, including Allison Hollett, Trade Sales and Marketing Director, Janel Noblin, Books Publicity Associate, and Audrey Locorotondo, Books Marketer. Julie would also like to thank the JMMDS Team, past and present, including Publications Manager Mary Landon and Senior Designer Bethany Gracia for her wonderful drawings that illustrate the book's concepts, as well as the countless homeowners, designers and photographers whose projects are showcased in the book. Appreciation is also due to Suzanne Fedoruk and Katie Kiefer of Fedoruk & Associates, Inc. who have continued to find innovative ways to get Home Outside out into the world and into the hands of homeowners everywhere. And thank you book and blog readers and commenters, and JMMDS fans for your continued support.
A recent Home Outside Design client received these two schematic design options for his suburban property.

On the heels of this honor, it seems like a good time to announce the official launch of our Home Outside Design service, specially tailored to meet the needs of smaller residential properties. If you've been meaning to make the most out of your landscape but aren't sure where to start, let JMMDS put our HOD designers to work for you.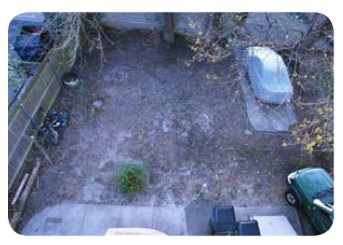 If your yard looks like this, HOD can help!
Home Outside Design takes homeowners through our process for getting to know your landscape and discovering your design personality. JMMDS provides an HOD kit that has everything you need to get started and walks you through every step of the HOD process, from assessing and photographing your property, to describing your design aesthetic and vision for your landscape. JMMDS then creates two schematic-level design options (like the ones above) that you can use to jumpstart your landscape design process. These plans show options for arranging elements in your landscape to create the foundation of your "Home Outside." Fall is a great time to start on your design work so you can be ready to install in the spring. Email info@jmmds.com for more information or to get started.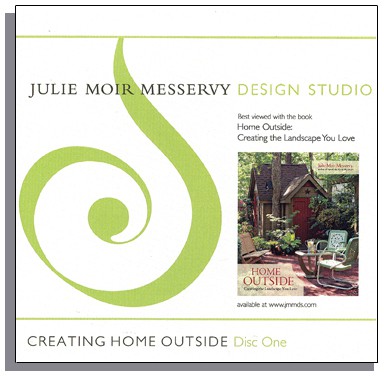 Creating Home Outside: Disc One. The DVD is available at jmmds.com/books.

You can also get your landscape design gears turning with Creating Home Outside, our new Design Seminar DVD. In it, Julie gives you a front-row seat at her annual design workshop as she illustrates concepts from the Home Outside book with plenty of real-world examples and landscape images. Signed copies of the DVD are available from jmmds.com/books.
On another note, thanks to all who joined us yesterday evening for Julie's lecture at the Connecticut Horticultural Society—you were a great audience and we hope to see you again soon!