Text and photos by Erica Bowman, JMMDS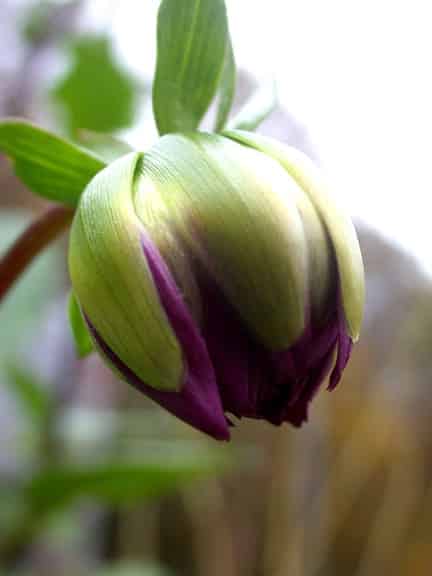 Dahlia bud.
Autumn is hard on us gardeners. It signals the end of yet another growing season. It can be difficult to let go of those glorious blooms, and harder yet accepting the reality of winter's coming. Sometimes a protracted goodbye is a bad thing. For one snarky garden blog writer, enough is enough.
I don't know who they think they are kidding. It's late October here in Vermont, and most respectable plants know that winter is coming. The respectable set has allowed their blooms to fade, their seeds to set, and leaves to turn, as they should. It's called, "going to bed for the winter," and yes, as chief gardener and regulator of this little homestead of mine, I expect my plants to behave in this manner. After all, I have a lot of work to do to prepare their beds, and I don't need anybody slowing me down.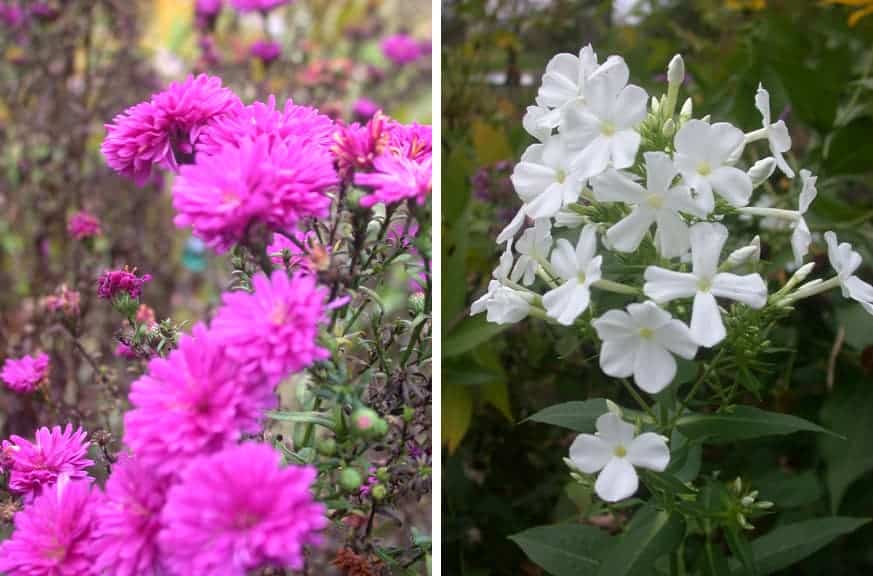 L: Asters. R: Phlox paniculata 'David.'
Yet some plants around here are just going on and on like it's some sort of all-night party. Not only do they continue to bloom, but some are still in bud! Is it a race to the finish, a contest to see who will be the Last Plant Standing? Perhaps these plants have been watching too much reality TV (Extreme Green?) Okay, perhaps I can find it within myself to hold off on the final bed preparations for just a moment longer. Game on, my friends, game on.

L: Rudbeckia laciniata, or cutleaf coneflower. C: Leucanthemum x superbum 'Becky,' or Shasta daisy. R: Knautia macedonica.
I can understand the annuals' perspectives. They have one shot at procreation and they are going to take it. Hot weather arrived late this summer in Vermont, and these plants have to make the most of their short season. I am sure that my constant dead-heading must have been frustrating to them. They are, after all, trying to go to seed. Every time it threatens to frost, I go out there with my trusty clippers and snip everything blooming in sight. This only seems to stimulate them and they respond with raging new blossoms every week or so.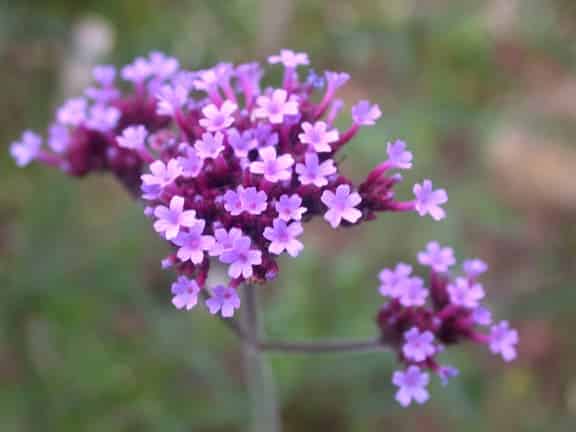 Verbena bonariensis
I do appreciate their persistence. After all, what are annuals good for, if not constant bloom late into the season? I know that their end will be swift and final as soon as the fatal freeze rears its ugly head. I will be there when it happens to rip them out by the roots and send them straight to the compost pile. Goodbye, zinnias, see you next year.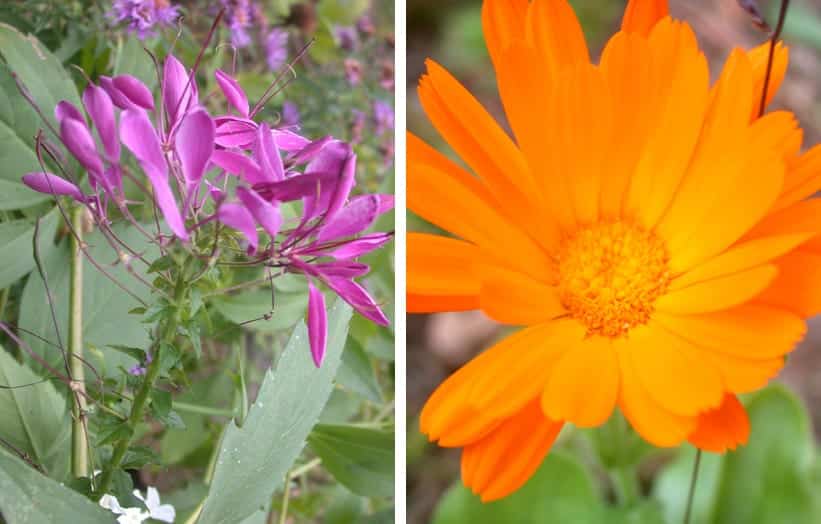 Annuals: Cleome (L) and Calendula officinalis (R).
As for the perennials, puh-lease. It's not like they haven't had their days in the sun. I ask, as I do every year, "What were you waiting for, Actaea, a private invitation to bloom when it was still September? Why wait until October to show your glory? If you are going to be a bugbane, would you mind coming out when there are still swarms to ward off?" Actaea never answers. Its fuzzy white blooms sway gently in the autumn winds. Bees get their last hurrah.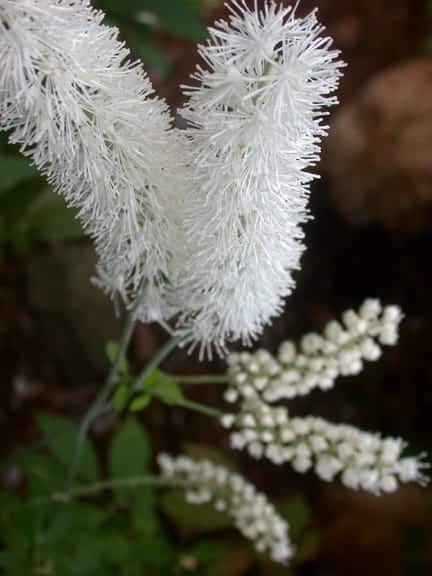 Actaea racemosa, also known as bugbane, snakeroot, black cohosh, or fairy candles.
I will say that Anemone japonica is fading nicely and respectfully in the background. Its neighbor, the Lysimachia clethroides, is beginning to pink in a delightfully harmonious way. (One thing is for certain, though: that Lysimachia better enjoy it while it can because this is its last year in this garden. It has definitely overstayed and overspread its welcome with its underground runners that are cropping up everywhere, including in the middle of my well-behaved Astilbes!)
The Scabiosa ochroleuca, Knautia macedonica, and Callirhoe involucrata are all in the same category for me. None are beautiful from afar at this point and have almost made the chopping block several times this fall, but for their persistent and pesky continuous blooms and buds that are quite beautiful close-up and in bouquets. The Scabiosa's stronghold is that it sits in my white garden (cliché, I know), amongst the still blooming Leucanthemum 'Becky', Phlox paniculata 'David,' and chamomile.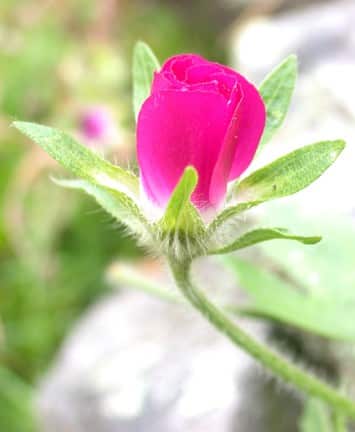 Callirhoe involucrata, or purple poppy mallow.
Aster is such an obvious late bloomer but this one takes the cake.  My Aster novae-angliae 'Alma Potschke' has come and gone at this point (its bloom partner the Helenium autumnale).  This one, almost like a China Aster with its true double flowers, came to me by way of an unlabeled pot at an end-of-the-year sale at a local nursery.  It takes the wind out of the sails of its neighboring purple bloomer, Oreganum laevigatum 'Rosenkuppel.'  I think I will change some things around next year to combine the very late blooming Dendranthema species with this Aster.
Also still budding are the Rudbeckia laciniata, Hemerocallis 'Happy Returns,' and biennial Coreopsis grandiflora.  I don't want to point out the obvious, but don't they know that yellow is passé right now?  I mean, it's sooo September.
On a gentler note, the Persicaria affinis has been blooming ALL summer long. Its year-end reward has been its delightful fall foliage, a maroony green mixture that blends so well with my catmint and Pulmonaria. I can hardly be angry at its continued bloom, since fall clean-up is such a snap with this plant. Nepeta, Geranium, and Centurea blooms, on the other hand, just remind me of my failings from earlier in the year (when I should have cut them down for the re-flush but didn't until much too late).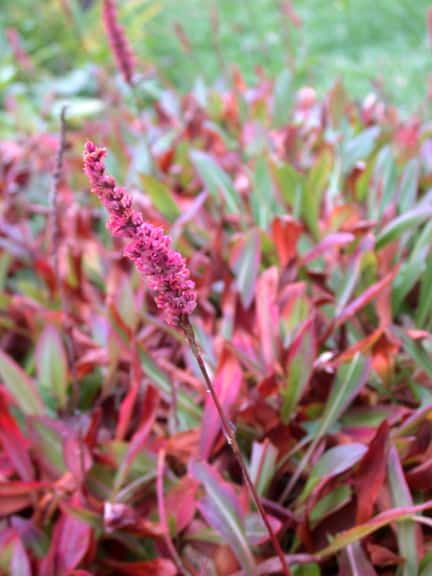 Persicaria affinis, or fleece flower.
Speaking of failings, the Dahlia is particularly troublesome, as I am prone to indulge a bit too long in its fall floriferousness and can miss the necessary moment between flower and freeze to dig up its tubers. I have to cart those babies back and forth to my basement every year and suffer ongoing guilt when I find a dusty forgotten tuber in the crawl space late in the summer or, worse, at this time of year, marking an entirely missed season.
So, who will make the final flower? My bet is on the roses. I have seen them blooming for Thanksgiving in the past. Delighted now that the Japanese beetles have finally gone away, these pinks are usually the last color I see until spring. I wonder what this year will bring?

L: Scabiosa ochroleuca, or pincushion flower. R: Rosa.
To be honest, I see a mighty big bouquet in the near future.