by Erica Bowman and Anna Johansen
Color in the garden can be hard to come by towards the end of the summer, but these time-tested perennials and annuals will keep your garden going through the dog days of August and beyond!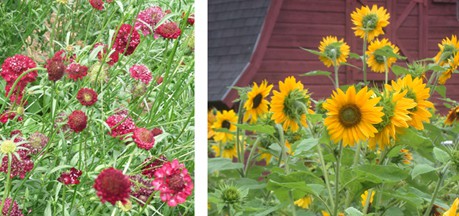 L: Scabiosa
 (Pin Cushion) 'Fire
 King'

 in Anna's Garden; R: Sunflowers brighten Erica's barn.
Photos: L: Marta Johansen; R: Erica Bowman.
The end of August in Vermont always seems to come all too quickly. Some things are good – no blackflies, less weeding, and pantry shelves starting to fill with the canned and pickled fruits of the season. Other things are a little harder to embrace – most gardens have peaked, the days are all of a sudden shorter and nights are a bit cooler. Late summer gardens with their brilliant yellow and rusty tones, mauves and purples, can provide some comfort and even be something to look forward to. Here are some ideas to keep the color coming from Erica and Anna's gardens.
L: Sedum,
 Geranium,
 and Ornamental
 Rue from Anna's Garden; R: Erica's Echinaceas, Phlox, and 
Monarda.
Photos: L: Anna Johansen; R: Erica Bowman.
Erica's Eye on August Perennials
We've had a hot, dry summer here in southern Vermont and some of the usual garden strongholds (Echinaceas and Leucanthemums) are looking a bit rattier than normal but the Rudebeckias are staying strong earning their title as the most reliable flowering August genus for several years in a row in my garden. Monardas' second flush seem to be holding on, but barely. Heliopsis seems to be on its way out. We've already cut several dwindling Liatris stalks to the ground and only the late Hemerocallis varieties are still producing. Early Phloxes have begun to pass but the strong, tall, white are just starting, as are Asters, Heleniums, Physostegias, Lobelias, some Anemones, and late blooming Alliums. The ornamental Origanum and Knautia have been blooming all summer with almost no care and the Salvias, Veronicas, Veronicastrums, Astrantias, Nepetas, Geraniums, Coreopsis, and Leucanthemum who were lucky enough to have gotten some deadheading earlier on are all coming back with an additional bloom. The fields and roadsides seem to be bursting with early Asters, Solidago (goldenrod), Vernonias, wild Rudebeckias, Eupatoriums (Joe Pye Weed), and the like. We like some of these so much that we have allowed them to enter into our own gardens.
L: Eupatorium; R: 
Origanum,
 Black­-Eyed
 Susans
. Photos: Erica Bowman.
L: Goldenrod in bloom; R: Early Goldenrod. Photos: Erica Bowman.
Here are some of our Favorite August Perennials for Flowers and Leaves, as well as Annuals:
Perennials for Flowers
Aster
Agastache (Anise Hyssop)
Goldenrod
Hydrangea
Hemerocallis (Daylily)
L: Helenium
 spills over a wall in a roadside garden; R: Dewy Daylilies. Photos: L: Anna Johansen; R: Erica Bowman.
Phlox
Sedum (Stonecrop)
Perovskia (Russian Sage)
Echinacea (Coneflower)
Anenome (Wind Flower)
L: Anenome
 'Robustissima' and Artemesia; C: Agastache; R: Phlox, 
Helenium, Rudbeckia 
'Herbstsonne'.
Photos: L: Anna Johansen; R & C: Erica Bowman.
Helenium (Sneezeweed)
Heliathus 'Lemon Queen' or Maximilian (Perennial Sunflower)
Origanum (Ornamental Oregano)
Scutellaria (Skullcap)
Eupatorium (Joe Pye Weed)
Rudbeckia – 'Herbstsonne', Black-Eyed Susan, Brown-Eyed Susan
Perennials for leaf color
Amsonia (yellow) (Bluestar Flower)
Euphorbia (Spurge)
Vaccinium (Blueberry)
Geranium
Epimedium (Barrenwort)
Artemesia (Wormwood)
Grasses
L: Deschampsia; R: Roadside Calamagrostis
. Photos: L: Erica Bowman; R: Anna Johansen.
Anna's Annuals

After planting out flats and flats of annuals in my cutflower market garden, I inevitably have orphans that become integrated into my perennial gardens. Their continuous color until the last of the perennials becomes paramount when we have hot, dry summers like this past one in Vermont. The evening aroma of 'Lime' and 'Fragrant Cloud' Nicotiana, the airy, electric purple Verbena bonariensis and the bold Amaranth 'Opopeo' give my gardens a noticeable lift this time of year. Vegetables and herbs also offer some color beyond their culinary usefulness. This September, a bride requested herb-inspired arrangements. The umbels of dill, the leaves, aroma, and flowers of basil (try 'Cinnamon' or 'Purple Queen'), Shiso and Calendula have proved themselves worthy of a place in the late summer garden.
L: Verbena
 bonariensis and Nicotiana 
'Fragrant
Cloud'
; R: Verbena
 bonariensis
. Photos: L: Anna Johansen; R: Erica Bowman.
Zinnias
Verbena bonariensis
Kale, Swiss Chard
Basil, Shiso
L: Nicotiana 
'Fragrant
Cloud'
; C: Purple
and
 Thai 
Basil; R: Red
 Shiso
 
and 
Solar
 Flashback 
Calendula. Photos: Anna Johansen.
Nicotiana
Amaranth
Sunflowers
Tithonia (Mexican Sunflower)
Rudbeckia – 'Prairie sun', 'Indian Summer', 'Brandywine'
Snapdragons
Scabiosa