by Mary Landon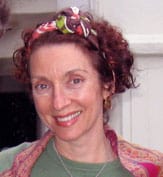 We first got to know Alma Hecht, APLD, from our Call for Submissions process for Julie's book Home Outside. Alma's submissions had an earthiness that we found particularly appealing. Her designs are organic and personal, with both whimsical and practical elements. She exhibits a great sense of imagination as well as a commitment to using native plants and recycled materials whenever possible. We were especially pleased to feature several of Alma's projects in Home Outside. One of these can be found on pp. 80-83 of the book, featuring a small city garden designed for a busy executive with a culinary background.
Alma artfully divides a small, California lot into a series of garden "rooms."
Photo: Ken Gutmaker (p. 80, Home Outside).
Alma Hecht is the owner and founder of Second Nature Design–sustainable landscapes, based in San Francisco. She is certified by the Association of Professional Landscape Designers and is the Immediate Past President of its San Francisco Chapter. Alma holds a Masters of Arts in Landscape Design from The Conway School of Landscape Design, is a Certified Arborist, and a member of the California Native Plant Society and Friends of the Urban Forest. Her company, Second Nature Design, works collaboratively with clients to provide a full range of services from one-time consultations to comprehensive landscape designs with lifelong garden care.
Sabu, Alma's faithful co-worker, has found a comfortable "outdoor room."
Photo: Alma Hecht (p. 166, Home Outside).
Alma's gardens have been featured in numerous books and newspapers, and this year her talks at San Francisco's Flower Garden Show on "Gardening by the Square Inch" and "Cool Ideas for Warming Times" were extremely well attended. Alma donates her time to the Glen Canyon Park and writes a seasonal column for the Glen Park News. She is also involved in another community-based project in her area: together with her neighbors, Alma transforms the sidewalks in front of their homes into pocket street gardens.
Alma's designs combine whimsy and function: A laundry grove of hand-wrought recycled
powder-coated "trees" by artist Kris Borchardt, and a translucent wine bottle screen.
Photos: L: Alma Hecht; R: Ken Gutmaker ( p. 81, Home Outside).
Alma had this to say when Home Outside came out in January:
"During this time of economic woes, buy a great book, stay in and read, then make your home even lovelier, to continue staying there through recovery." We think that's a wonderful idea, Alma. And thank you for your contributions to the book!