I received the most wonderful birthday present in November from my co-workers. It's probably one of the most unique pieces of jewelry I've ever seen, and it grabbed my attention from the start.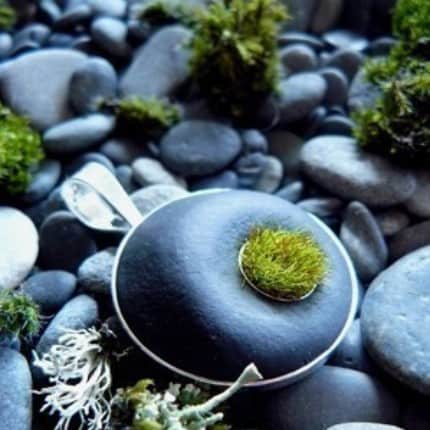 I think this goes back to my childhood when I spent hours outside creating miniature "environments" out of natural ingredients: twigs as trees, moss as grass, pebbles as rocks, walnut shells as boats, etc. Anything that reflected a world in miniature appealed to me. Matchbox cars pulled into little driveways tucked under tree roots….troll tables constructed out of twigs and bark….a 3 inch truck with its payload filled with logs or pebbles…these were some of my favorite creations that led to many hours in the woods.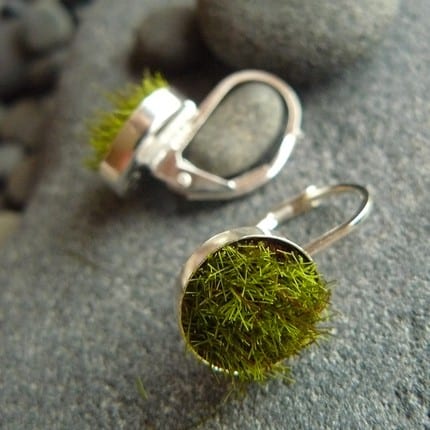 So, imagine my delight when I received a pendant called "Set in Stone" made by Amy Mueller of adornjewelry.etsy.com. (Also see adornjewelry.blogspot.com/) As you can see from the photo, the pendant is charming. In Amy's words:
"The faux stone has been shaped out of polymer clay to resemble a basalt pebble and set into the sterling silver pendant. A tiny tuft of faux moss springs forth from a sterling bezel cup within the clay. The moss is made of latex sprouts backed with foam. Easy to care for as this moss has no need for sunlight or water!"
It is eye-catching and subtle at the same time. It even comes with some replacement moss should your original moss plug get dislodged, and easy care instructions. The circle is about one inch in diameter, with a smooth black clay "stone" that has a wonderful feel.
I encourage you to look at Amy's other jewelry items, which are equally whimsical and reflect natural motifs. She's based in Seattle, and sells her jewelry through the online craft store etsy.com, as well as at stores in her area. Keep a little bit of the outdoors with you at all times – you can almost smell the damp northwest air. – ML