By Jennifer Silver, JMMDS
Two years ago Ball Horticultural Company sent JMMDS some shrubs to try out in our home gardens, all of them selected from established performers in our Zone 5 growing area. The shrubs arrived in perfect condition—healthy and lush little specimens. I took several home and plunked them in the ground, then had to move them later as my garden design evolved (some of them moved more than once!). All continued to thrive despite the unceremonious treatment. Here are my favorites.

L: Physocarpus 'Lemon Candy.' Photo by Ball Horticultural Company. C: Russian sage (Perovskia atriplicifolia). Photo by allanbecker*gardenguru. R: Lady's mantle (Alchemilla mollis). Photo by Prescott Park.
I love physocarpus, commonly called ninebark, for its exfoliating bark and many-lobed palmate leaves. 'Lemon Candy,' with its bright chartreuse leaves, is stunning. It supposedly has a mounded form up to 3 feet in height and diameter, but mine is rather upright vase-shaped and is already 3 feet tall after only two years. The color is a gorgeous foil to bluish-lavender; I surrounded mine with perovskia, lady's mantle, and 'Walker's Low' nepeta. I will definitely be needing some more 'Lemon Candy' to repeat throughout the garden.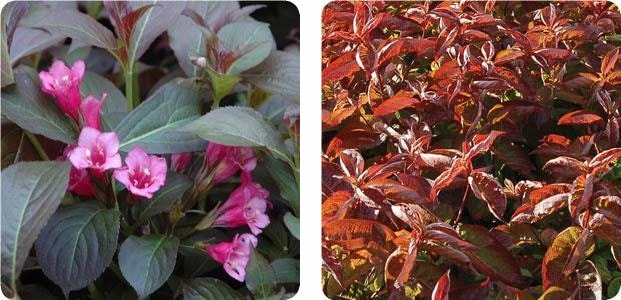 L: 'Merlot Rose' weigela. R: 'Wings of Fire' weigela. Photos by Ball Horticultural Company.
I have in my yard an antique no-name weigela which is breathtaking when it's covered with rose-pink trumpet-shaped flowers but for the other 49 weeks of the year is rather nondescript. My two Ball weigelas, 'Wings of Fire' and 'Merlot Rose,' are remarkable mostly for the gorgeous coloration of their leaves. The foliage of 'Wings of Fire' is a light green tinged with copper that turns a handsome shade of red in fall and holds its color until frost. It seems to need no care whatsoever and is already well on its way to forming a 3-4' mound.
Weigela 'Merlot Rose' has dark bronze-green foliage. It's a knockout in a mixed border of echinacea, rudbeckia, yarrow, and sedums, where it easily stands up to all the hot colors around it. It is also tough and fairly drought-tolerant, never withering during several hot, dry weeks last summer.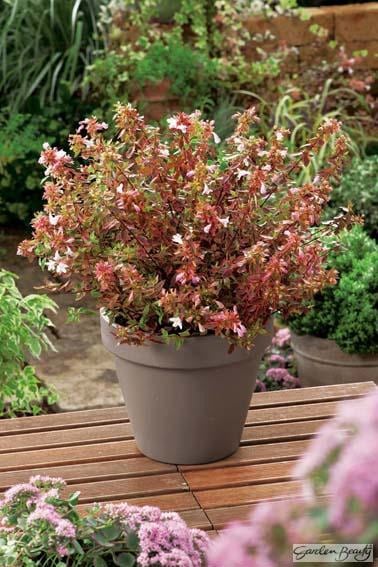 Abelia grandiflora 'Sunshine Daydream.' Photo by Garden Beauty.
I don't usually love abelias; I find their pink-yellow-green variegation homely, but the fragrance of 'Sunshine Daydream' makes me swoon. I want it near the house while it's flowering. This summer I intend to dig it up (yet again) and put it in a pot that I can place by an outdoor seating area while it's in bloom. I'm told they like being in pots and are quite drought-tolerant and self-sufficient.

Hydrangea paniculata 'Fire and Ice,' whose panicles change color over the growing season. Photos: Ball Horticultural Company.
'Fire and Ice' is simply a gorgeous hydrangea. Up to 6′ tall, upright, with fantastic panicles of flowers that start out ivory, then blush darker and darker as fall approaches, its only flaw seems to be that it doesn't taser the deer that come to nibble at its elegant lime-green leaves. In its second summer, I moved it to a new bed where it gets morning sun and fairly heavy afternoon shade. It has grown astonishingly fast and looks lovely underplanted with hostas, hellebores, Virginia bluebells, and 'Mrs. Moon' pulmonaria.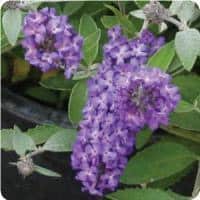 Finally, I have to mention the dwarf 'Blue Heaven' butterfly bush. I was disappointed to learn a couple years ago that buddleias don't feed the caterpillars of my beloved butterflies, but this one is worth keeping around for its beauty alone. The flowers are an intense bluish lavender that I crave in my garden. It's worth noting that like all buddleias, this one takes a long time to leaf out in spring and looks dead as a doornail; it's not. It seems very happy in a large container in the herb garden, with ajuga as a living mulch.
We'd love to hear about the shrubs you're loving (or looking forward to acquiring)!