by Anna Karina Johansen, JMMDS
Concrete is one of the most commonly used materials in residential and other construction.  So what happens when that concrete reaches the end of its lifespan and needs replacing?  In one recent JMMDS project, concrete that would have otherwise been hauled away was re-purposed on site.

A new driveway recycling the old. Photo: Anna Johansen.
Not so long ago concrete waste ended up in a landfill.  Fortunately, this practice is too costly today, so it is typically crushed to various degrees and re-used as substrate in roads or other pavement, drainage ditches, as rip rap, or in gabions. Recycling concrete also reduces the need for gravel mining, water use, heavy metals and carbon emissions for processing new cement, and pollution for trucking in new material.

Instead of repaving the entire driveway for this project, we chose to create one-way tire strips (since a car can't turn around in this space anyway) with planting between the strips for permeability, pollen for the homeowner's bees, and aesthetics. To further break up the monotony of paving, the tire strips were composed of one type of exposed aggregate and the courtyard another, installed by Triad Associates, Inc., based in Haverhill, MA.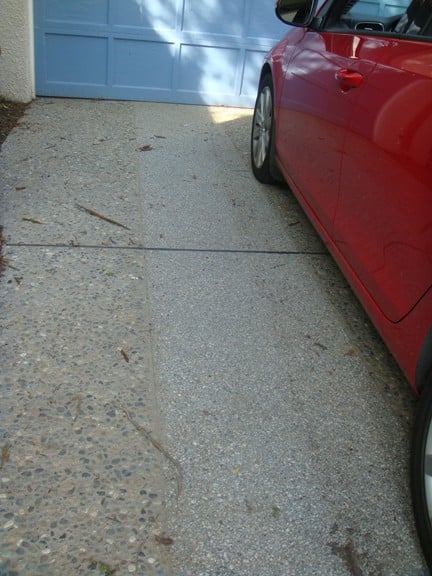 Vehicular grade exposed aggregate pavement. Photo: Anna Johansen.
Broken slabs of the waste concrete were placed on either side of the tire strips as stepping stones so that drivers and passengers could step out of the car and walk through the plantings with ease.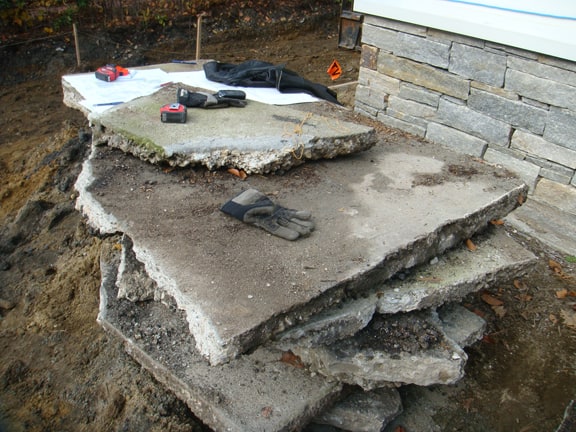 Placing the pieces. Photos: Anna Johansen.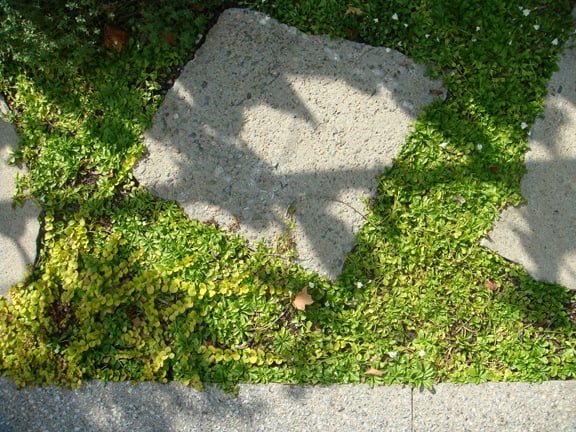 Top: Plants taking hold. Bottom: Mazus and creeping Jenny.  Photos: Anna Johansen.
The tire strips and concrete steppers were installed last fall and weathered the winter with minimal breakage.  Groundcovers, which will stabilize the soil, were planted this summer and after about two months have started to fill in and flower!  We used:
Ajuga reptans 'Chocolate Chip'
Lysimachia nummularia (golden creeping Jenny)
Mazus reptans 'Alba' (Mazus)
Phlox subulata
Thyme (5 varieties)

R: Athena enjoying the thyme.  L: Ajuga and Mazus.  Photos: Anna Johansen.
Check out these projects using recycled concrete by other designers.

Recycled concrete in gabions, fabric-formed concrete walls with tiles and gravel.  Photos: Kokona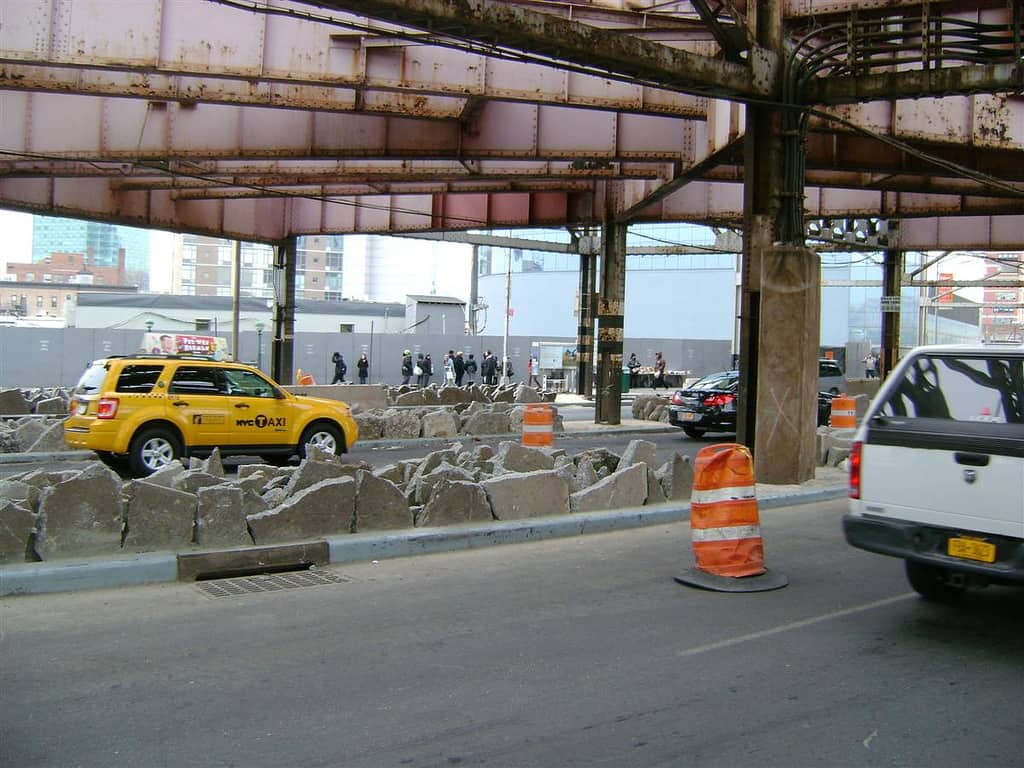 Tobiah Horton of WRT designed the reused concrete planted medians for The Queens Plaza Bicycle and Pedestrian Landscape Improvement Project through Long Island City.  The primary function of the concrete on edge is to direct pedestrians and bicyclists toward safe passage at the area's new crosswalk and bikepath system.  Photos: Tobiah Horton.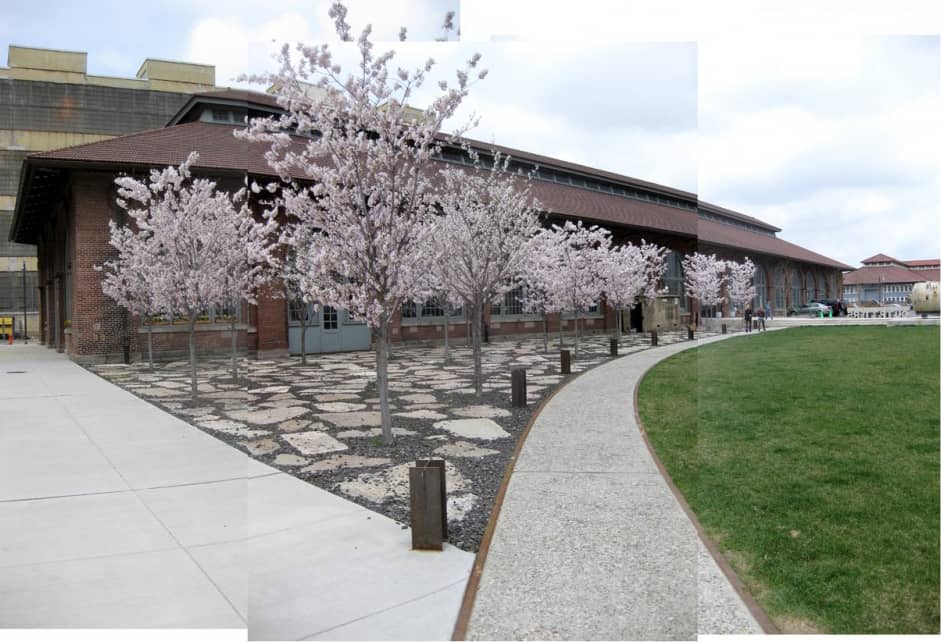 D.I.R.T. Studio uses recycled concrete at the Urban Outfitters Courtyard.  Photo: archdaily.com.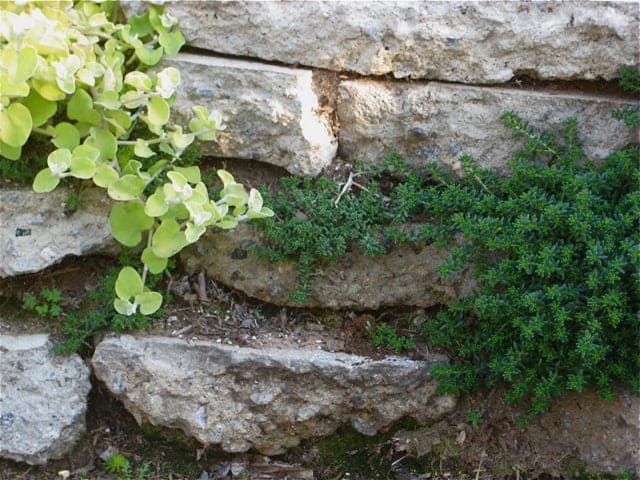 Recycled concrete retaining wall.  Photo: Everything Gardens.
Other links:
Landscape for Life – Use Concrete Alternatives – For more information about the history of concrete, as well as the environmental impacts of cement and concrete with cement alternatives.
Check out http://groups.freecycle.org to find local recycling of building materials in your hometown.
Step-by-step directions on how to make your own recycled concrete path or terrace:
http://www.greenposting.org/articles/limelight/2011-06-15/How-To-Create-a-Recycled-Concrete-Patio-or-Path