by Anna Johansen
As the days are starting to get longer and my canned goods and freezer stock starts to have a noticeable dent, my mind turns to next year's garden. Armed with a stack of seed catalogs, my laptop, a red pen, my seed box and a freshly brewed cup of rooibos tea, I begin the planning.
Anna in the garden. Photo: Ali Kaukas. From The Complete Kitchen Garden by Ellen Ecker Ogden.
I have a rather large garden (50'x 75') and I like to have a little (or a lot) of just about everything, all the time. This approach is not for everyone but always leaves me satisfied in some form at the end – not a good tomato year? That's ok since we'll be eating broccoli 10 ways 'til April. But how about an Endless Salad Garden or a Children's Pizza Garden? For some themed garden ideas check out Renee's Garden Resource page. Start with a list of vegetables, flowers and/or herbs you would like to grow with consideration of the space you have and how much space each plant needs. I keep all of my leftover seeds in a box, organized by where they go in the garden (squash family, lettuce, herbs, etc.) so I can easily see what I still have enough of and what needs ordering. Throughout the growing season, I also keep notes on the seed packets so I can look back on a record of what varieties I did or didn't like, and when I reseeded each seed type throughout the year, both of which inform my seed ordering for the next season.
There are many seed sources out there but four that I recommend. I use Johnny's Selected Seeds for most and Fedco for some of my vegetable and flower seeds. Johnny's catalog is in color, alphabetical, and has veggies, fruits, herbs, flowers, tools and supplies. Their seeds are of the highest quality and they have excellent growing information right on the packet.
Fedco is more tailored to the experienced grower as the catalog is black and white, but it's by no means boring (the cover illustration is of a prop plane cruising over a cauliflower cloud.) It is filled with illustrations, organic products, feedback from growers, and is organized by plant family. Fedco also carries Moose Tubers – an excellent source for potatoes, onions, shallots and sunchokes. Fedco's Organic Growers Supply will stock you up on everything from beneficial insects to the best books in the trade. And there is also a trees and bulb division of Fedco! Take note of their deadlines (seeds are available online only after March 19), when they ship, and that they offer discounts on orders over $100.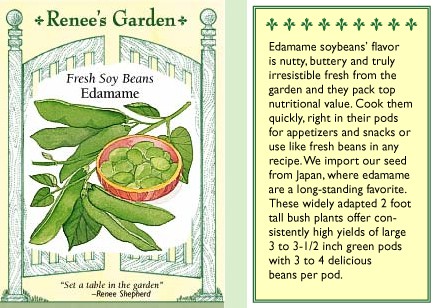 Two other great sources for seeds are Renee's Garden and High Mowing Organic Seeds. For the smaller or new garden, these suppliers offer a breadth of advice, recipes, beautiful seed packets and ingenious mixes. Do you find that it takes years before you can use up a pack of pumpkin seeds? Renee's offers a mixed pack of pie and carving pumpkin seeds in one packet. High Mowing prides itself on offering only organic non-GMO products, heirloom seeds and quality supplies. High Mowing is based in Vermont.
A few more words of advice: Seed supplies are low this year (and more costly) because of last year's cold wet season so now's the time to start planning and ordering.