By Julie Moir Messervy
Many of you have been writing to ask how JMMDS and our studio fared in the recent Hurricane Irene storm that has devastated our Vermont communities. By now you've seen images and video of what happened to the small-town communities that surround us here in Southern Vermont. The rains that fell from Saturday night through Sunday evening left behind over 8 inches of water that poured down our many little mountain streams to absolutely overwhelm our rivers. Individual low-lying homes and whole communities were swept away downriver in an unbelievable deluge of churning mud, white caps, and debris.
Steve and I were lucky. We live high on a hill that's been carefully graded to move water around or away from our house. When the whole area lost power due to a submerged transformer, our generator took over, getting us through the next 20 hours with ease. Our road, pictured below, washed out in spots, but our amazing road crews were on the scene as soon as the rains receded, rendering it passable by mid-day on Monday and almost back to normal by Tuesday.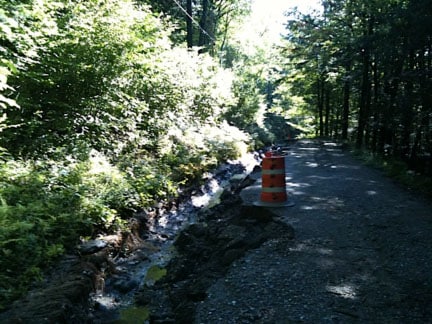 What's normally a tiny trickle of water down our dirt road turned into a river, washing out Davidson Hill Road. Photo: Julie Moir Messervy.
So many others were not as fortunate.   Our little hamlet of Saxtons River made the national news with this Youtube video of the raging river for which it's named.  Many living along the river were forced to flee when their houses were devastated or worse–dragged into the river and washed away.  JMMDS designer Erica Bowman, who lives in Jamaica, was marooned at her home for three days, with every bridge in her town either destroyed or washed away. One of Jamaica's destroyed bridges, on Route 30 near the Winhall Fire Department. Photo: Hurricane Irene—Jamaica Vermont.
As Erica pointed out, the most vegetated river banks withstood the flood the best. Properties with grass lawn right up to the water's edge were washed away, while their neighbors' tree lots held tight. In one instance in Jamaica, an old maple tree's spreading roots may have been the thing that finally saved the house.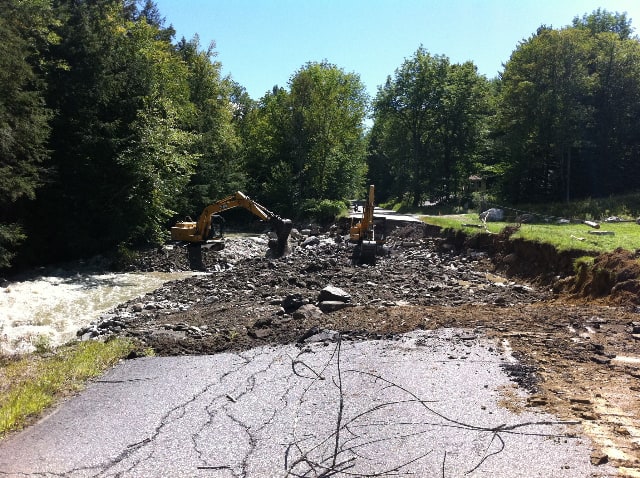 What is left of the road half a mile from Jana's home in Chester. Photo: Jana Bryan.
Jana Bryan's family was evacuated from their home in Chester as waters rose in the nearby stream. While her house survived the storm, the house next door now has the Williams River at their front door. She believes that Chester has the most streams and waterways (and therefore culverts and bridges) of any town in Vermont, and therefore miles of back roads have now turned into riverbeds.
Anna Johansen tried to make her normal hour-long commute from Dorset (near Manchester) to Saxtons River Tuesday morning, only to find that most roads were closed for repair.  She finally was able to detour way north to go south and made it in just under two hours. She noted Vermont's vulnerability to flooding, given the number of waterways and the fact that all the towns along our major roadways are in the valleys of the Taconic and Green Mountains.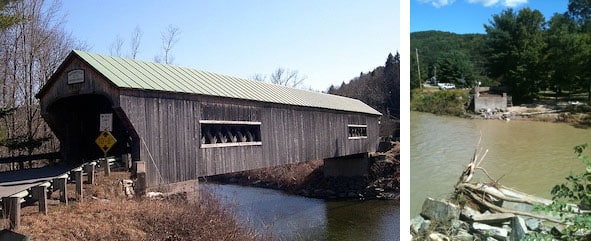 The Lower Bartonsville covered bridge, before and after Irene. L: Photo by Wikipedia. R: Photo by Jennifer Silver.
Jennifer, Bethany, and I all live closer to the studio so our commutes are less onerous, but the scenes of devastation along the way are very sad to behold. We feel so lucky that our beloved covered bridge in Saxtons River, Hall Bridge, is still standing. Jennifer's partner Fred used to drive over the lovely covered bridge in Lower Bartonsville on his way to work; he sometimes had to dodge the tourists photographing it. Floodwaters swept the bridge right off its abutments, and on Tuesday, most of the people taking photographs were crying.
We have all just witnessed the power of water to destroy, and we are all more respectful because of it.