by Val Khislavsky
Snow is on the ground and the Holidays are upon us! Whether you're scrambling for gift ideas or just curious, check out JMMDS's picks for our favorite gardening gifts!

At the JMMDS Holiday Party. From left: Julie, Mary, Bethany and Amelia, Kate, Val, Anna and Erica.
Photo: Julie Messervy.
Everyone has a favorite gardening gift, and most come with a story attached. I asked everyone in the office to tell us about the best gardening gift they had ever received. Hopefully their answers can give you some inspiration for the gardeners and plant lovers on your list!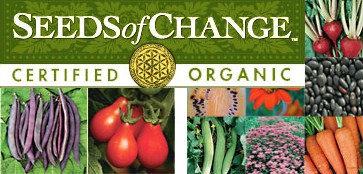 Seeds of Change offers a variety of individual seed types and collections.
Julie:
My favorite present was from JMMDS staff last year. Everyone banded together and gave me a gift certificate for Seeds of Change–a wonderful organic seed company. I can't think of a better gift! All winter long, I read and re-read the catalog and designed and re-designed my garden, until I finally was able to sow the forty packets of seeds I chose as the weather finally warmed up.
Mary:
The best gardening gift Mary ever received was a pair of Felco pruners (the original Model 2), given to her by the owner of the landscape design and installation company she worked for at the time. The Felcos were an end-of-the-season gift after her first summer working as a landscape laborer. Mary vividly remembers the extremely hot weather and being the only woman on a younger, all-male work crew; in short, the Felcos were well-earned! The best part is, she still has them and continues to use them year-round for pruning, fall cleanup, and cutting flower bouquets. Mary even keeps them in the car with her in case she comes across some interesting plant specimens! Mary writes, "as the website says, 'Felco pruners will change your life.' They are worth the investment."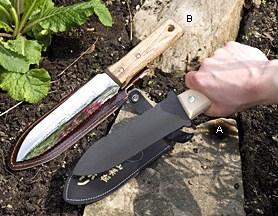 Bethany:
A few years ago, a very lovely Workshop participant generously passed on the gift of her favorite gardening tool–a Japanese weed knife, aka a Hori Hori Knife (from the Japanese verb Horu, to dig out). It took me a while to transition from my trusty hand fork & trowel team, but I was so glad I did. The knife works wonderfully for weeding, digging holes, planting bulbs, edging (it slices through sod like butter), cutting twine, slicing a pot-bound rootball, it will never bend under pressure, never needs sharpening, it doesn't rust and it fits comfortably into a back pocket, or the belt holster it comes with. A terrific, long-lasting multi-use tool for any gardener!
L: Colorful Tubtrugs from Gardener's Supply Company; R: Anna in the garden with her red Trug! Photo: Ali Kaukas. From The Complete Kitchen Garden by Ellen Ecker Ogden.
Anna:
Anna received a Tubtrug (in red, her favorite) for the holidays last year, and it's been a versatile addition to her gardening toolbelt. From replacing her 5-gallon pail, to hauling weeds, compost and strippings from flower stems from her summer flower business, the trug has proven itself a perfect gardening gift. Anna has also used it to carry fruits and veggies, and has found it handy even in the winter: the trug is currently storing this year's Christmas gifts.
Erica:
Erica reminds us that even the best gift-giving ideas can sometimes go awry. One year for Mother's Day, she tried to create an animal-proof a garden for her mother, complete with 9-foot chicken wire fence set 2 feet below the ground, only to find that after she had seeded the garden, turkeys had flown in over the fence and eaten all of the seeds! Sounds like a gift certificate may have been an easier idea…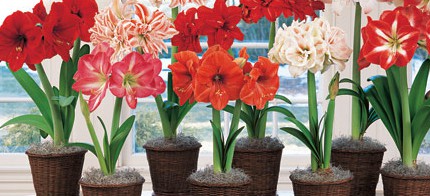 Val:
Speaking of gift certificates, the best gardening gift I've ever received was a gift certificate to White Flower Farm from my great aunt Joan, my gardening mentor. Gift certificates take the pressure off of buying for gardeners–no need to worry about whether your giftee already has this tool or that–just put the choice in their hands. Gift certificates are also a great way to support local garden shops, especially through a difficult season and economy.
Kate:
Kate has not yet received "any gardening gifts to speak of," but as they say, "Give and you shall receive." Kate plans to give orchids to a few lucky people on her list this year. Winter bulbs also make great holiday gifts: amaryllis and paperwhite bulbs will perk up any gardener suffering from the winter blues with their color and scent.
Hope this gives you some ideas for your holiday garden shopping–let us know about your favorite gardening gifts by leaving a comment below!