Every gardener needs a good pair of waterproof boots– and there's nothing like three days of rain here in the Northeast to remind us of how important they are! These days, there is a garden boot for everyone: you can choose from a number of men's, women's, and unisex options, short or tall boots, lined or unlined– the list goes on and on. Here are a few of our favorites:
Boots:
Julie is a fan of the versatile Muck Boots Edgewater Boot Hi model: the boots are completely waterproof and can be worn anywhere– even in wetlands and shallow water. They are also incredibly comfortable, mainly because the rim is soft and never chafes. The rim is wide enough to be able to tuck your jeans into, yet narrow enough to pull them over if you want. The boot is warm enough for really cold temperatures, but cool enough to be able to wear in the heat. This Edgewater Boot is also well-reinforced– Julie has had hers for two years without a single puncture. The Edgewater Boot is said to be "for those who love the great outdoors"– they're "perfect for camping, hiking, fishing," and, of course, gardening. Muck Boots also offers a garden-specific boot, the Scrub Boot™ Lawn and Garden Boot. They offer the same comfort and breathability as their tall boot counterparts in a smaller package. Give them a try!

–
A friend of our suggests an economical option, the Northerner Max Boot, which is available in both men's and women's sizes. This is a seamless boot that features "reinforced construction at critical stress points" to make for durable and long-lasting wear. It tends to be roomy in the calf and ankle, making it easy to slip on and off. The Northerner Max boot offers both the waterproofing and traction needed for wet weather, especially on slippery surfaces like mud and grass. It is made in the USA.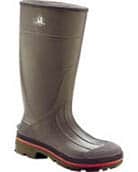 –
Other Options:
If boots aren't your thing, an alternative comes recommended to us by our Senior Designer, Bethany, who wears Gore-Tex® hikers instead:
The Merrill Moab Gore-Tex® XCG® is a multi-sport shoe available for both men and women. It is a low-cut shoe designed to keep your feet "dry and comfortable" despite hot or cold outdoor temperatures. A breathable and ventilated construction wicks moisture away from your feet so they don't sweat like they might in some boots. They also offer superb durability and waterproofing– Bethany says she can hose the whole shoe down at the end of the day without even getting her socks wet! She also finds the internal arch support to be great when wheelbarrowing and doing similar activities. She wears her Gore-Tex® hikers all season long!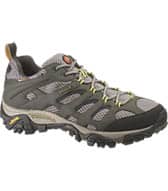 Do It Yourself:
Our Publications and Office Manager, Mary, has a trick for customizing a pair of rubber boots to make them just right for gardening: she finds that tall boots are too high and too hot to wear in the summer, so she buys a pair of inexpensive rubber boots and cuts them off 6-7″ down from the top. The boots instantly become more breathable and easier to slip on and off– all you need is a pair of scissors!
–
Tell Us Your Thoughts:
Do you have a great pair of garden boots or shoes you just can't live without? Tell us about them by responding below!