By Julie Moir Messervy. Photos by Seamus Flynn Photography.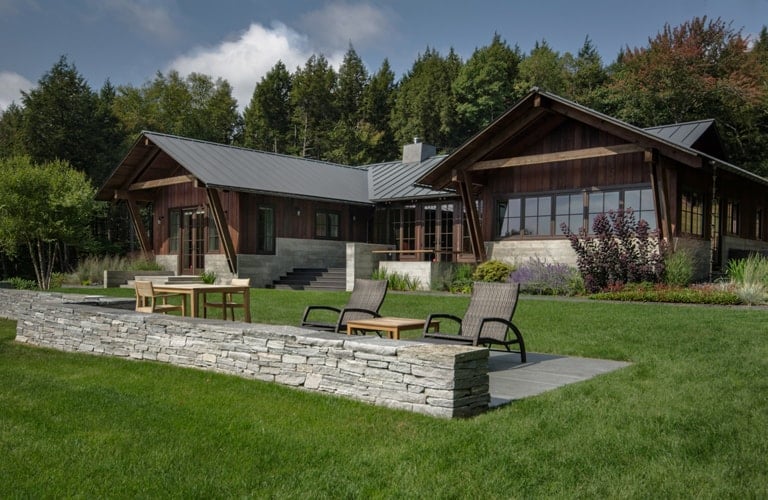 Sitting high on a hill in the forested wilds of southern Vermont is a house unusual for its area. At first glance, it looks like a Japanese-style farmhouse from the north island of Hokkaido with its hewn timber frame, wooden windows, and deep eaves. Yet there is something fresh and new about the contemporary touches: the standing seam roof, rustically elegant wood and tile-floored interiors, and board-form concrete half walls.
The house is composed of two long offset barn buildings with eaves that are joined in the middle around an exterior stone courtyard. JMMDS's Senior Landscape Architect Jana Bryan saw that what was needed was a clean and simple landscape move that held up the steep surrounding slopes with a long stone retaining wall. Constructed by Scott Wunderle of Terrigenous in Chester, Vermont, the wall borders a rectangular quartzite terrace with a beautiful view out to the surrounding landscape. The wall encloses a level grass shelf around the house and a large courtyard and play space for the couple's dog.
On the entry side of the house, Jana designed a retaining wall that holds up the slope between garage and house, accessed by a set of broad stone steps and linear pavers that take a visitor straight to the front door. Plantings in geometric beds surround more stone pavers that turn into a terrace for the guest wing of the house. The drip space under the eaves is filled with black washed river stone.