By Anna Johansen, JMMDS
As a gardener, there are many reasons to look forward to winter. The season offers welcome respite from unfinished outside projects, time to enjoy the harvest, and a blanket of white to start dreaming for the upcoming season. As anticipation for Spring's return mounts, I find solace in the sweet perfumes of indoor bulbs and encouragement in their rapid, rich growth. Forcing bulbs is easy, and, with some forethought, the blooms can be ready just in time for your Easter table (or at least before their outdoor counterparts!).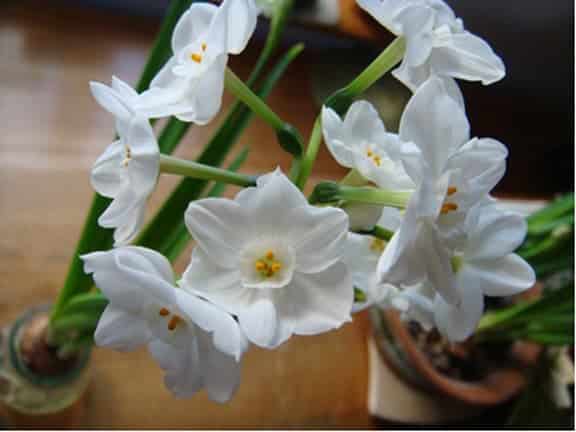 Sparkling white, fragrant paperwhite narcissus in bloom. Photo: Anna Johansen.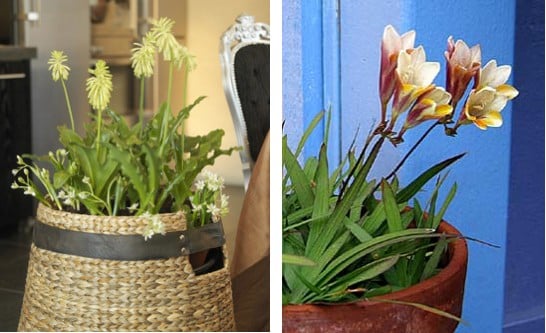 L: The delicate blooms of veltheimia, South African forest lily. Photo:
International Flower Bulb Centre
. R: Freesia leichtlinii. Photo:
Annie's Annuals
.
What is forcing? Forcing is the process of simulating the cold period that a bulb goes through when it is planted outside. Bulbs have different dormancy durations and temperature requirements for rest, and all need to have a post-bloom photosynthesis period to restore themselves. There are some varieties, like paperwhites and amaryllis, that don't require chilling, as they are warm-climate plants. Check your local garden center for pre-chilled bulbs, chill bulbs that didn't make it in the ground last fall, or look online. Last winter we shared our favorite Amaryllis (Hippeastrum) varieties. Here are some others to try:
Narcissus:
N. tazetta (paperwhites): no pre-chill+ 3-5 weeks to bloom
N. tazetta orientalis: same as paperwhites with a yellow center
Miniature 'Tete-a-Tete': 8-10 weeks chill + 3 weeks to bloom
N. cyclamineus (cyclamen daffodil): 10 weeks chill + 2-3 weeks to bloom
Daffodil (standard size): 15-17 weeks chill + 2-3 weeks to bloom
Veltheimia (South African forest lily)
Tulipa (tulip): 14-20 weeks chill + 2-3 weeks to bloom
Hyacinthus (hyacinth):10-12 weeks cold + 2-3 weeks to bloom
Muscari (grape hyacinth): 13-15 weeks chill + 2 weeks to bloom
Iris danfordiae (dwarf iris) or reticulata: 15 weeks chill + 2-3 weeks to bloom
Crocus chrysanthus or vernus (crocus): 15 weeks cold + 2 weeks to bloom
Galanthus (snowdrops): 10-12 weeks chill + 2-3 weeks to bloom
Scilla siberica or tubergeniana (squill): 15 weeks chill + 2-3 weeks to bloom
Chionodoxa luciliae (glory-of-the-snow):15 weeks cold + 2 weeks to bloom
Fritillaria meleagris (checkered lily): 15 weeks cold + 2 weeks to bloom
Freesia leichtlinii (freesia): no pre-chill; 2-3 weeks until bloom
L: The vivid colors of Crocus chrysanthus. Photo:
International Flower Bulb Centre
. R: Bulbs don't have demanding space requirements. Here, over 60 tulip, daffodil, and hyacinth bulbs are crowded peaceably into a 12-inch basket. Photo:
White Flower Farm
.
Method
There are two basic methods for growing indoor bulbs:
Soil-less, with the bulbs in a forcing glass or with stones or beach glass in a vase. Fill with water to the base of the bulb, and keep the water at this level (too high can cause the bulb to rot). Change water if it becomes cloudy. The fascinating aspect of the soil-less method is to watch the roots establish before the greens start their growth.
In a flowerpot with sand or light potting mix. It is somewhat easier to use this method for bulbs that require moist pre-chilling (like tulips) because they are less likely to dry out. Use 1" gravel or a minimum of 2″ sand or potting mix below the bulbs and a pot big enough that the bulbs are just covered. Pack bulbs in as tightly as possible. Place pot in a cold basement or elsewhere around 40 degrees (do not allow to freeze), and bring into a sunny window when pre-chill period is complete (see Tips, below).
L: Tulip bulbs planted in soil. Photo:
Bulb Blog
. C: Narcissus in water (in a forcing vase). Photo: Anna Johansen. R: Narcissus in a bowl of gravel. Photo: Anna Johansen.
Whichever method you select, have fun choosing creative containers. Inspiration is all around you!
You know you've become bulb-obsessed when you begin raiding your dinner table for forcing vases. Photo:
MarthaStewart.com
.
Tips:
If you use the soil method, do not use compost. Bulbs already contain the nutrients needed to bloom once; soil that is too rich can cause rot.
Avoid chilling bulbs in the fridge if you keep fruit in the fridge because ethylene given off by fruits will cause the bulbs to ripen prematurely.
Place potted bulbs in indirect light and keep moist until they have attained 3-5″ of growth; then bring into direct light to encourage flowering.
You can tell if bulbs have had a sufficient chill period if you can see roots at the bottom of the pot or leaf tips beginning to emerge.
Prevent bulbs from getting too warm (above 70 degrees), as they may get leggy. Move bulbs to a cool place at night to lengthen bloom time.
Choose large, firm bulbs. Bigger bulbs means more blooms.
Remove dormant bulbs from storage in stages for continuous displays.
Use a glass cloche to retain humidity.
Bulbs do not force well a second time, so plant them in your garden in the spring or let them go dormant and plant in the fall. L: Old cans make charming bulb containers. Photo:
Plantology
. R: Cloches look beautiful and help to retain humidity. For an inexpensive alternative to cloches, check your local thrift shop for '70s-era cheese plates with glass domes; they're often just a few dollars. Photo:
Berlin Village Gift Barn
.
Want more information about bulbs? Check out Anna Pavord's gorgeously photographed, informative and entertaining book, simply titled Bulb.