JMMDS is a creative design firm led by principal Julie Moir Messervy. We collaborate with planners, architects, artists and engineers on a wide range of selected projects. Our work spans the continuum of landscape design from intimate

residential gardens

to large-scale

parks and master plans

. JMMDS designers travel anywhere to work with our full-service clients. For long-distance clients on a budget, we offer our Home Outside online design service.
The JMMDS Team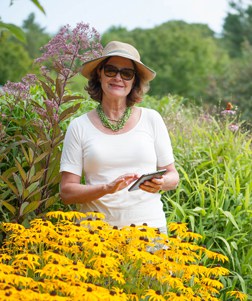 JULIE MOIR MESSERVY
Julie Moir Messervy's vision for composing landscapes of beauty and meaning is furthering the evolution of landscape design and changing the way people create and enjoy their outdoor surroundings. With over three decades of experience, eight books, and numerous high-profile lectures, Messervy is an innovative leader in landscape and garden design theory and practice. An acclaimed author, Messervy's most recent is a landscape inspiration book, Landscaping Ideas That Work, (Taunton Press, January 2014). The Toronto Music Garden: Inspired by Bach, is an in-depth guide to the conception and creation of this award-winning public garden.
Her 2009 book, Home Outside: Creating the Landscape You Love, received the Garden Writers Association 2010 Gold Medal for Best Book Writing. In 2006, Messervy partnered with architect Sarah Susanka to write Outside the Not So Big House. Messervy has also authored The Magic Land, The Inward Garden, and Contemplative Gardens, named one of the ten best garden books of the year by The New York Times.
Her industry expertise, work and books have been featured in The New York Times, The Washington Post, House & Garden, Elle Decor, Vogue, Garden Design and numerous other leading print and online media around the world. She is "The New Homestead" columnist for Organic Gardening magazine, and formerly she was the popular columnist of "Inspired Design" for Fine Gardening magazine. Messervy has lectured at distinguished venues such as the Smithsonian Institution, the National Geographic Society, and the Getty Museum.
Messervy studied landscape design with eminent Japanese garden master Kinsaku Nakane in Kyoto, Japan, first as a Henry Luce Scholar, and then as a Japan Foundation Fellow. She received a Bachelor of Arts degree from Wellesley College and Master of Architecture and Master in City Planning degrees from the Massachusetts Institute of Technology. Messervy is the principal of Julie Moir Messervy Design Studio (JMMDS) in Saxtons River, Vermont.
---
IN THE STUDIO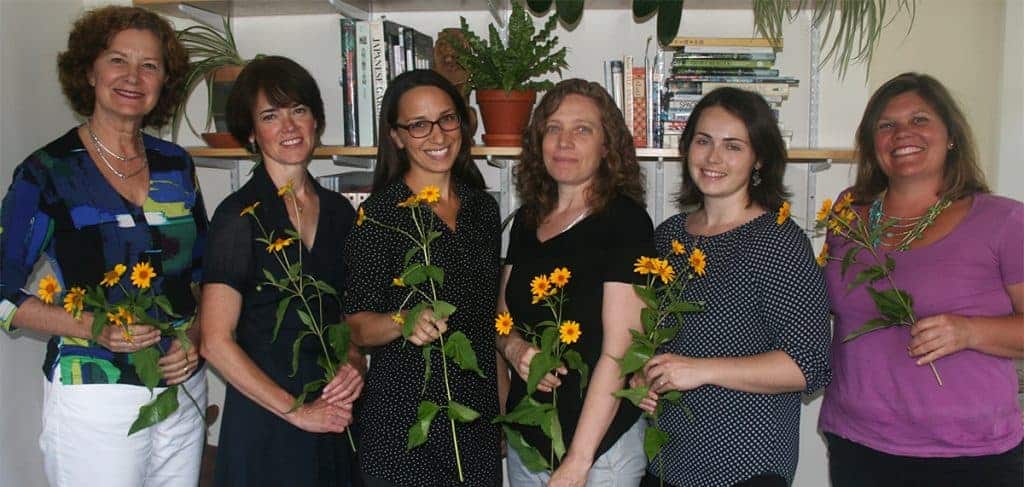 Julie Moir Messervy, Jennifer Silver, Bethany Gracia, Jana L. Bryan, Samantha Anderson, and Erica Bowman.
JANA BRYAN – Licensed Landscape Architect
Jana works at JMMDS as a landscape architect and team designer on many projects. She holds degrees in Fine Arts and Landscape Architecture from Rhode Island School of Design. She finds creative inspiration from patterns and colors in nature, gardens, weaving and other fiber arts.
ERICA LUDLOW BOWMAN – Licensed Landscape Architect
Erica came to JMMDS in 2007 with an MLA from Cornell and a specialization in Ecological Design. A fully licensed landscape architect and surveyor, Erica is a horticulturalist at heart; her favorite projects are plant-centric designs. She also writes for Horticulture Magazine. Erica manages JMMDS projects in the New England area and beyond.
JENNIFER SILVER – Marketing/Special Projects Manager
Jennifer has held a variety of teaching, writing and editing positions. When she moved to Vermont 12 years ago, she discovered her true passion: sustainable agriculture. She is never happier than when writing or gardening. At JMMDS, she gets to write about gardens—what could be better?
BETHANY GRACIA – Project Manager/Landscape Designer/Graphics
A seasoned landscape designer and New England gardener, Bethany applies her Art/Architecture degree from Smith College to eco-sensitive landscape designs, website design and management, graphic content for the JMMDS and Home Outside websites and marketing, layout manager of JMMDS books including Landscaping Ideas That Work, and designing the Home Outside Palette app graphics as well as the app's user and admin interfaces.
SAMANTHA ANDERSON – Project Manager/Landscape Designer
Samantha works as a project designer on residential and institutional projects at JMMDS. With a background in the arts as well as science, Samantha brings both creativity and technical expertise to her landscape design projects. Samantha enjoys painting, pottery, gardening, and tree identification and holds an MLA from the University of Massachusetts, Amherst as well as a certificate in Advanced Permaculture Design.
HONORS
2015, Chosen and profiled by Deluxe's Small Business Revolution.
2015, Pedrick's Garden at Little Falls Park in Greenville, SC, awarded the President's Award of Excellence by the South Carolina Chapter of the American Society of Landscape Architects
2013 Boston Flower and Garden Show, Best Exhibit Staged by a Non-Profit Organization (with the Massachusetts Horticultural Society)
2012 Grand Honor Award, Vermont Nursery and Landscape Association, for Commercial Design for the Inspiration Garden at Shore Country Day School in Beverly, MA
2011 Grand Honor Award, Green Works VNLA, for Inspiration Garden at Shore Country Day School
Garden Writer's Association of America, Gold Medal for Best Book Writing, 2010, for Home Outside
Thomas College, Honorary Doctorate of Humane Letters, 2010
Massachusetts Horticultural Society, Gold Medal for Weezie's Garden at Elm Bank, 2008
Honor Award from Prairie Gateway Chapter of ASLA for the KCAI East Gate Project, 2008
University of Massachusetts, Dartmouth, Honorary Doctorate of Fine Arts, 2007
Association for Professional Landscape Designers, 2006, Award of Distinction
American Horticultural Society, 2005, Great American Gardeners Award for Landscape Design
Boston Parents Paper Award, Best Children's Outdoor Play Area, 2005, for Weezie's Garden at Elm Bank
City of Toronto, 2005, Leonardo Da Vinci Award for the Toronto Music Garden
American Horticultural Society, 2005, Great American Gardeners Award for Landscape Design
Garden Writer's Association of America, Gold Medal, 1996, for The Inward Garden
The New York Times, 1990, named Contemplative Gardens "One of the Ten Best Garden Books of the Year"
Massachusetts Horticultural Society, Gold Medal, Isabella Stewart Gardner Museum Exhibit, New England Spring Flower Show
Massachusetts Horticultural Society, Silver Medal, Isabella Stewart Gardner Museum Exhibit, New England Spring Flower Show
New York Horticultural Society, Medal of Honor, Isabella Stewart Gardner Museum Exhibit, New England Spring Flower Show
Japan Foundation Fellow
Henry Luce Scholar
For speaking engagement, workshop, or media inquiries please contact our office
---
PEOPLE SAY THE NICEST THINGS…
"Ms. Messervy…sees the world as a garden, be it the vista from a hike in the mountains or the ripples made by a stone skipping across a quiet pond. She talks about the archetypes of gardens and invites gardeners to plumb their memories for the most affecting moments and places, and then to create a garden that elicits those feelings…" —ANNE RAVER, The New York Times

"What a lovely, fresh, entertaining presentation I attended in Ottawa last night. The images were beautiful but it was Ms. Messervy and her manner, enthusiasm, love of life, compassion for others (all creatures great and small), and sense of beauty, in all its forms, that were so inspirational and delightful. I am a librarian and today checked your holdings (selfishly, so that I could re-read some of your books) – there's huge line-ups on all of them!"—Lecture participant


"Awesome! I got my paradigm shift! Enjoyed perspectives and insights about archetypes. Enjoyed challenge to think outside the box and encourage creativity." —2013 Home Outside Workshop participant

"I am simply lost for words when trying to express how wonderful Julie is; she not only impressed everybody she met with her warmth and sincerity, she also inspired everyone in the auditorium." —Lecture participant
"Learn to know yourself and what you are searching for before you start to create your garden. This is Julie Moir Messervy's philosophy, and her book, truly original, charts this essential journey of discovery, where the practical side is the logical sequel. I urge all gardeners—and garden designers—to read this book." —ROSEMARY VEREY on The Inward Garden.