by
Erica Bowman
In 1884 Oliver Bell Bunce published a book called "Don't; A Manual of Mistakes and Improprieties More or Less Prevalent in Conduct or Speech," which offers old-fashioned etiquette advice for the early American. Here's my take, adapted for gardeners:
Sins of the soil: Erica's husband caught red-handed, standing in the garden. Photo: Erica Bowman.
Prefaced by the truth that "most rules of society are prohibitory in character," Bunce's book advises the reader on what NOT to do in terms of speech and behavior. Some examples are as follows: "Don't tuck your napkin under your chin, nor spread it upon your chest. Bibs and Tuckers are for the nursery…" or "Don't eat peppermint in public places or ever use strong perfumes of any kind." Pleasantly antiquated now, the chastisements of yesteryear have lost their sting over time. But can you still learn a thing or two? Yes, oh yes.
I can't help but think that the world needs a modern day series of gentle admonishments to correct bad behaviors in the world of gardening. Certainly we all can use a little direction from time to time on what NOT to do. In light of this need, I would like to introduce, "Don't; A Guide to Avoiding Ghastly Garden Mishaps and Foolish Follies."
CHAPTER 1: The Don'ts of pH, Standing in the Garden, and Garden Centers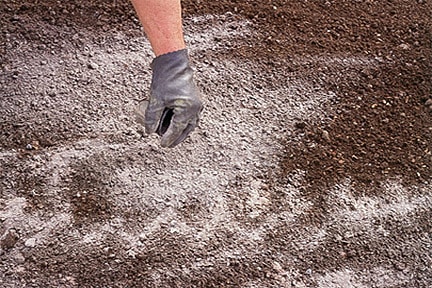 Limit the lime (or at least test your soil first). Photo: Royal Horticultural Society.

1. DON'T just add lime to your soil without checking the pH first.
People are often tempted to sprinkle lime upon their soil with no rhyme or reason as the first rite of spring. Lime, when properly applied to soil can temporarily raise the pH (in the direction of alkalinity) but raising the soil's pH is not always necessary. You must first test your soil's existing pH by using a chemical test kit or by sending a soil sample away to the local Extension Service. (for testing in VT and MA, try University of Vermont or University of Massachusetts.) You should also determine what sort of plants you would like to thrive there. Many garden plants (turf grass included) like a pH that falls somewhere between 6.5 and 7.0 – that is, neutral to somewhat acidic. (A pH of 7.0 is neutral on a scale of 0 to 14 and everything below 7.0 is acid or "sour" while everything above is alkaline or "sweet.") Even turf grass doesn't like pH to rise above 8.0, so gratuitously adding lime can be doing your lawn a disservice. Many trees are pH specific and cannot thrive in soils of incorrect pH. Do your research before planting; check the pH and choose a tree that will thrive in the conditions you have rather than choosing a tree at random and then trying to change the pH to suit its needs. If you still feel you need to change the pH of your soil, then use the recommendations provided to you by the university extension service that does your soil testing. They will give you specific instructions on what agent to add, and how much based upon your specific soil and planting needs.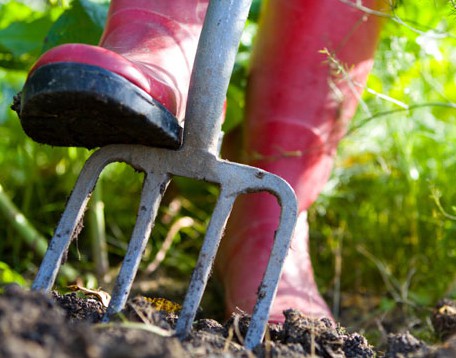 No standing in the garden! Photo: The Daily Green.
2. DON'T stand in the garden.
It makes my skin crawl when I see someone walking or standing on the garden soil. Not only will this aid in compaction, but it may damage the early shoots of still emerging plants. Anyone who has spent time double digging their garden to a deep and fluffy perfection knows how much work is involved. The airy soil is easy for roots to penetrate and allows for the plant to more easily access oxygen, water. Compressing the soil makes the plants work that much harder to grow and stifles the flow of oxygen, nutrients, and water. If you must walk in the garden to reach plants for maintenance, place stepping stones down first so that you can limit your compression to one area every time. And painters… ahem. Please construct a low scaffold to stand on to avoid standing on the garden itself. Even six inches off the ground is better than nothing.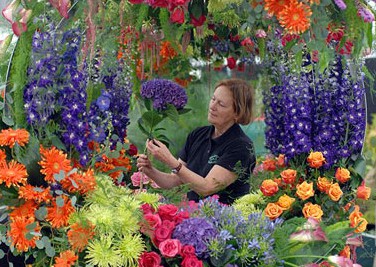 3. DON'T go GA-GA at the Garden Center.
It's ok to get excited when the garden centers and garden shows start putting out the first blooms of spring–just show some restraint. If you feel like a kid in a candy shop (and who doesn't?) then at least PRETEND that you are on a diet. There are a couple of good reasons that you should exert self-control in the face of extravagance. For one, garden show/center designers can sometimes bend the truth a bit. Sometimes you see fall and spring bloomers forced to coexist in the same display. Other times it might be shade plants together with plants that like full sun. All of this is done in the name of beauty, but it can be confusing for the new gardener just looking for a beautiful design to replicate. In Garden Centers, sparkle and splash sell merchandise and many plants make their way to the front rows just as they are in full bloom. It's not that it is bad to be delighted, it is just that it is better NOT to buy that plant in full bloom if you can avoid it. If the plant is in full bloom now, then soon enough it will be past, and with the transplant shock it will undoubtedly undergo, any blooms this year will likely be short lived. If you must buy that plant, choose one that is fuller, denser, shorter, and more in bud than bloom. This will give you a lengthier bloom this year and better rooting success for the next year, if it is a perennial. Also when dealing in perennials, if you can wait until after the bloom, when the plant has been cut back, its price tag may be reduced. You may be able to get more bang for your buck that way and reap the benefits next year. Good things do come to those who wait.
Stay tuned for Chapter Two: The Don'ts of fertilizer application, watering, and deadheading.