by Julie Moir Messervy
We've lost a great designer and garden communicator, but are grateful for the writings and legacy he leaves behind. Here are a few of my memories of Wayne Winterrowd: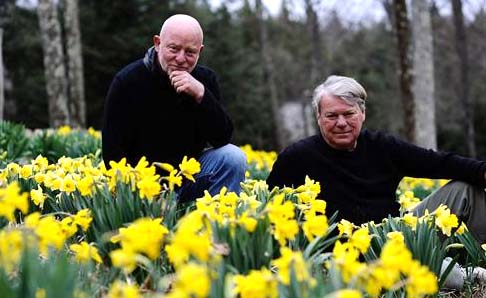 Wayne Winterrowd with his longtime partner, gardening companion, and co-author Joe Eck.
Photo: CJ Gunther for USA Today.
Two weeks ago, Dr. Leonard Perry came to our studio to film for his "Across the Fence" television program on Vermont's WCAX. Early that morning, in preparation for his arrival, I watched several of his shows to get a sense of his interview style. My favorite was one he filmed this past July with Wayne Winterrowd and Joe Eck at their lovely garden, North Hill. In this 15-minute interview and video tour, Leonard asks Wayne and Joe about their gardens, some of their favorite plants, and the life they created together in Vermont. It had been a few years since I had seen them both, so I felt happy to have a glimpse of them once more.
When Leonard and his crew arrived later that morning, I told him how much I loved his segment on North Hill. "Yes," he said, "It was quite a shock to hear that Wayne died last week." I hadn't heard. Sure enough, in the New York Times that morning was Anne Raver's tribute to Wayne.
Like so many others in our field, I have wonderful memories of Wayne. Lecturing with him for Horticulture Magazine, I witnessed his Southern charm and elegant turns-of-phrase, and learned about plants from a master. I was flattered to be asked to write about my favorite roses for the book he edited on the subject and delighted to present at the North Hill Symposium on Women and Gardening some years later. He and Joe toured my first Garden Design Retreat participants around North Hill, enchanting us all with their deep knowledge of plants and design.
L: One of North Hill's many gardens; R: A blue Meconopsis Poppy, one of the many plants Wayne and Joe coaxed through the Vermont winter. Photos: Growing With Plants.
But my favorite exchanges with Wayne came via email after he learned that I was planning to relocate to Southern Vermont. He wrote with enthusiasm about the delights of living in the country and encouraged me to look for land and to work it. His words were heeded.
Writing books is often an arduous and lonely pursuit. But among the benefits an author might reap is immortality. Through his writings, Wayne's exquisite vision lives on.