Guest blogger Carol Wood is a musician, former professor of medieval literature, and gardening enthusiast, as well as co-chair, with Julie, of Main Street Arts, Saxtons River's non-profit arts center. Visit Carol's website to hear her classical and Celtic harp music and vocals. She brought her southern graciousness and elegance to Vermont four years ago and writes here of her affection for her northern garden.
When I moved to Vermont from Louisiana, I knew that I would love gardening in the North even more than I had loved it in the South, where I gardened for over twenty-five years.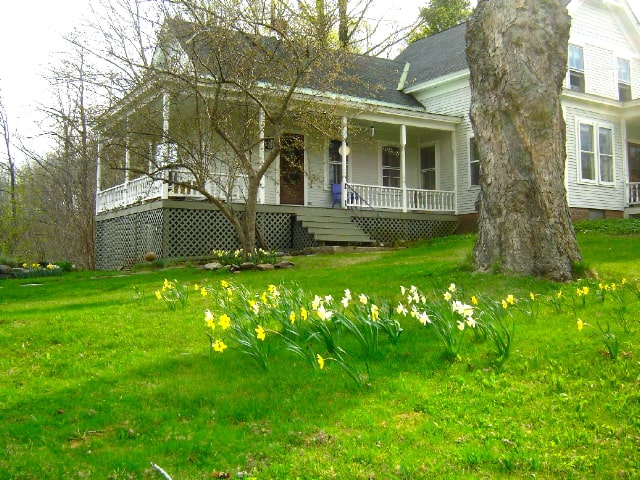 Carol's first spring in her Vermont farmhouse. Photo: Carol Wood.
It might not be self-evident to gardeners who have always lived in more temperate areas of the country, but many common garden flowers just won't endure the heat and humidity of a Southern summer.  We longed, my Gulf Coast friends and I, for peonies, lilacs, and lilies of the valley—all completely out of the question for our gardens.  Almost all varieties of bearded iris, daffodils, and Oriental lilies were also unreliable, except grown as (expensive) "annuals."  Pinks were practically unheard of, but I remembered the delicious scent of clove pinks from gardens in north Arkansas, where I was in graduate school, and the spires of blue delphiniums figured in my gardening dreams like some unattainable holy grail.

L: Carol among her beloved delphiniums. R: A close-up of "Blue Lace" delphinium, with white campanulas in the foreground. Photos: Carol Wood.
The four years I have been gardening here in Vermont have been a joyous exploration of possibilities, trying out flowers and plants I've always wanted to grow—Oriental poppies, alliums, asters, bleeding heart, monkshood, all kinds of phlox and campanulas, in addition to those longed-for flowers I've already mentioned—and discovering many others, like the magnificent Hydrangea arborescens that seemed to be blooming in all the gardens and cemeteries in August when we first arrived.
Gardening in a cool climate also means that I don't have to endure the kind of heat and humidity that peonies and lilacs object to, and I loved finding out that it's cool in the mornings in Vermont even in July, if you get up early enough. Quite often the nightly lows along the Gulf Coast never dropped below 75 or even 80 degrees, so it didn't matter if you got out into the garden at 4 am: with the humidity and mosquitoes factored in, even the earliest mornings were misery throughout the summer.


Carol's perennial bed is transformed over the course of the growing season. L: The cool silver, pinks, and blues of delphiniums, artemisia 'Powis Castle,' and foxgloves look magical in early summer light. R: Two months later, under high-summer sun, a hotter color scheme predominates, with cleomes, echinops, and wine-colored flowering amaranth in bloom. Photos: Carol Wood.
Gardeners who like hot weather (I have met a few people who even claim to enjoy humidity), or who want to garden all year long, or who love tropical plants like palms, bananas, and ginger flowers will no doubt prefer to garden in the South.  And I must admit that there are things about Southern gardening that I occasionally miss—the azaleas that seem to ignite every yard in March, the delicate gold-green veils of live oak blossom at the same time of year, and above all the intense perfumes of certain waxy, heavy-petaled, white Southern flowers:  pittosporum, Michelia figo, gardenia, and the huge, lemony bowls of Magnolia grandiflora.
But for me there's no contest.  The flowers I most love, the ones that define a garden for me, are the traditional flowers from temperate, seasonal gardens.
L: Some of Carol's favorite northern-climate flowers–creeping phlox, irises. R: Foxgloves and campanulas. Photos: Carol Wood.
It's even a pleasure for me to put the garden to bed each fall.   My zone 9 garden never went to sleep.  Camellias started to put on their show in November and continued through March.  Sweet peas were traditionally sown at Thanksgiving, and garden peas had to be in the ground by January.  Pansies bloomed all winter long.  Winter and early spring were much nicer times to be out in the garden; however, I personally prefer the rhythm of a Vermont year, with its long winters that make the arrival of spring and the growing season such a thrill.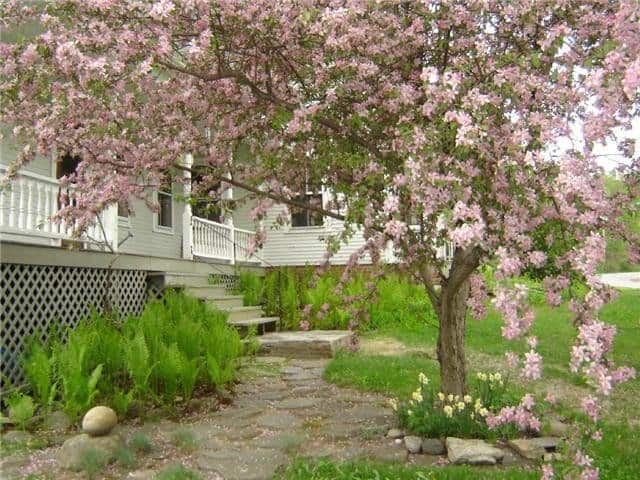 A  springtime vision to lift northern hearts—a flowering crabapple. Photo: Carol Wood.