By Julie Moir Messervy (based on her July 20th Real Estate Today radio interview with Gil Gross)
  "If you want to be happy for a year, plant a garden; if you want to be happy for life, plant a tree."
(English proverb)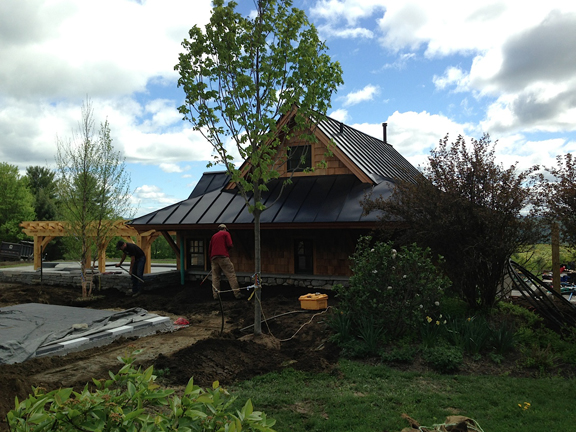 At this JMMDS-designed property, we decided to plant deciduous specimens that will become large trees on the west side of this new pool area: a sugar maple (Acer saccharum) to shade the little pool house and a Heritage River birch (Betula nigra 'Heritage') to shade the pergola and terrace. Design by JMMDS. Photo: JMMDS.
Landscaping, especially when it includes large shade trees, can add as much as 20% to your property's value. I think of trees as the crown jewels of the landscape around a property.
Think about the physical, thermal, psychological, and even spiritual difference between a street with shade trees on it and one with no trees.  The one with no trees can become a "heat island" with temperatures considerably higher than surrounding areas.
Trees also reduce storm water runoff and prevent erosion. They have root systems that enable shorelines to hold in place.  As we know from when Hurricane Irene came through Vermont two years ago, those shorelines with trees fared better than those without. Their leaves also filter the air we breathe, and each tree stores 13 pounds of carbon every year.  So the more trees there are, the more carbon dioxide is absorbed, mitigating global warming.
For homeowners, shade trees are a low-tech energy solution that can reduce the need for air conditioning in summer and break the force of winter winds to lower heating costs. Trees properly placed around buildings can reduce air conditioning needs by 30% and save 20-50% in energy used for heating. The USDA says, "The net cooling effect of a young, healthy tree is equivalent to 10 room-sized air conditioners operating 20 hours a day"!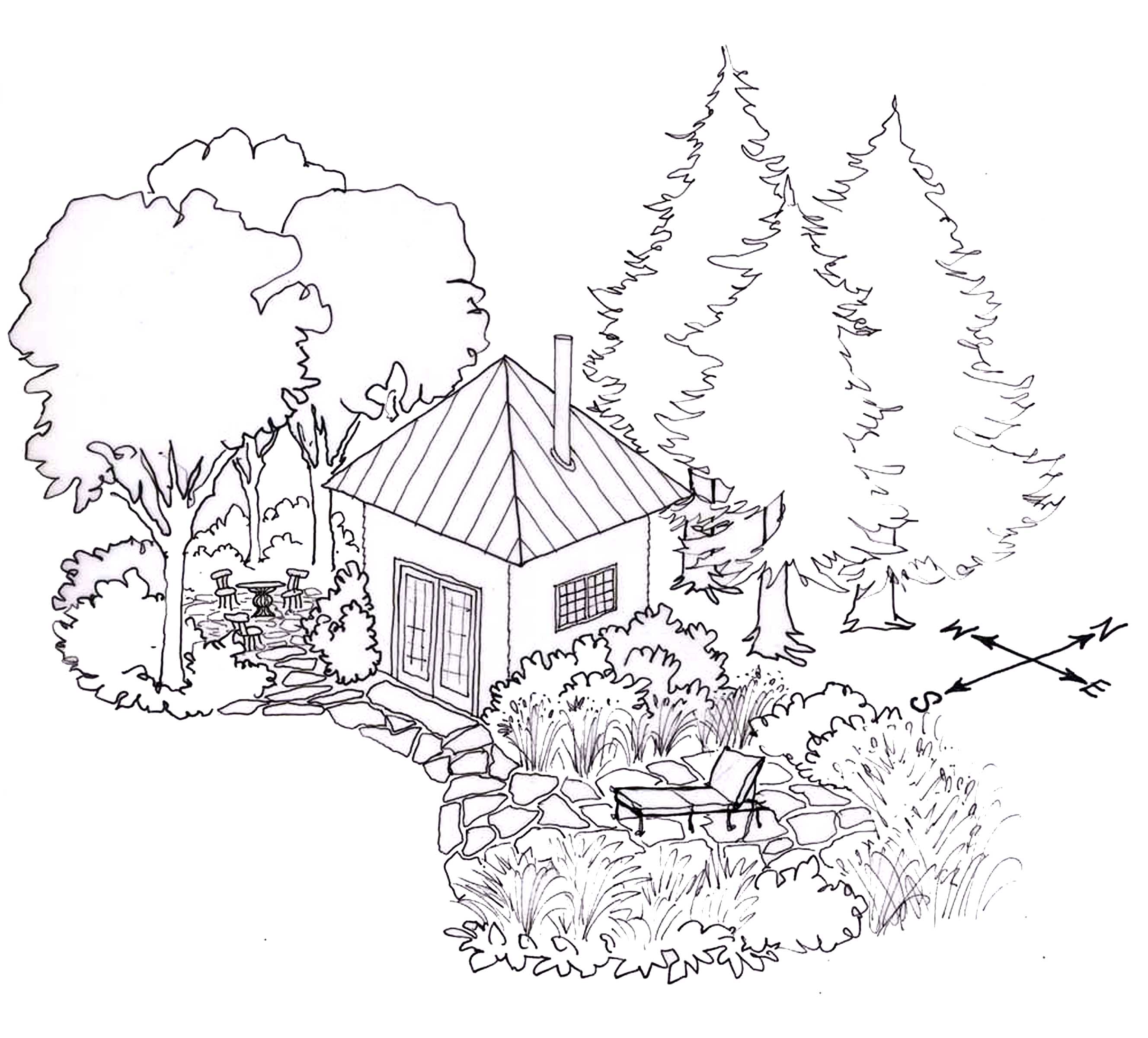 "Site your house so that it opens to the south, maximizing sun exposure in winter and southwest breezes in summer; install a large deciduous shade tree to the west to filter harsh afternoon sun; trap morning sun in the southeast to provide a basking place; and locate evergreens to the north to provide protection from severe winter winds." (From Home Outside: Creating the Landscape You Love, page 27).
Below are some questions from the interview and my answers.
Q. It seems planting trees is especially important when you're considering lawn design and new home construction.  Is there a correct side of the house to plant a shade tree on?  If so, what side of the house do you plant it on and why?
A. Here are some pointers:
To shade in summer, plant on the southwest or west side of your house to shade it from hot western sun.
Plant street trees to ward off a heat-island effect, providing cover for paved surfaces.
Fruit trees can provide food for your family and for wildlife.
And, of course, plant ornamental trees because they're so beautiful—their structure, their bark, their flowers, their fruit.
An evergreen screen on the northeast or northwest side of the house can ward off harsh winter winds and provide cover and habitat for birds and other wildlife.
So many reasons to plant trees!
Q. How long should we expect it to take for a tree to grow to a size where it will be useful to give our home some shade from the hot sun?  And how much are these shade trees likely to cost us?
A. A tiny whip might cost $50, and you can expect to sit under it in 10 years. It might take 20-30 years to shade the house. You can spend as much as $3,000 for a large tree installed by a landscape contractor.  Depending on the tree, it would be about 20' high to start.
Q. Could you suggest trees for different regions of the U.S.?
A. Below are some native trees for each region, recommended because they tend to have fewer pests and sustain our native wildlife. These trees will be large enough to put a table and chairs under.
Please Google them to learn details you'll want to know before purchase. (For example, some people object to the messy fruit of the Sweetgum, but others are delighted by the luna moths attracted to their gardens by its leaves!)
Northeast:  Sugar Maple and Red Maple, Oaks
Central Atlantic:  Tulip Poplar, Green Ash (although watch out for Emerald Ash Borer)
Southeast:  Southern Live Oak, American Sweetgum, Tupelo
Midwest:  Northern Catalpa, Yellow Buckeye
West:  American Hackberry, Boxelder
Southwest:  Osage Orange Tree, Desert Pine
California/Pacific:  Valley Oak, Sourwood, Pacific Dogwood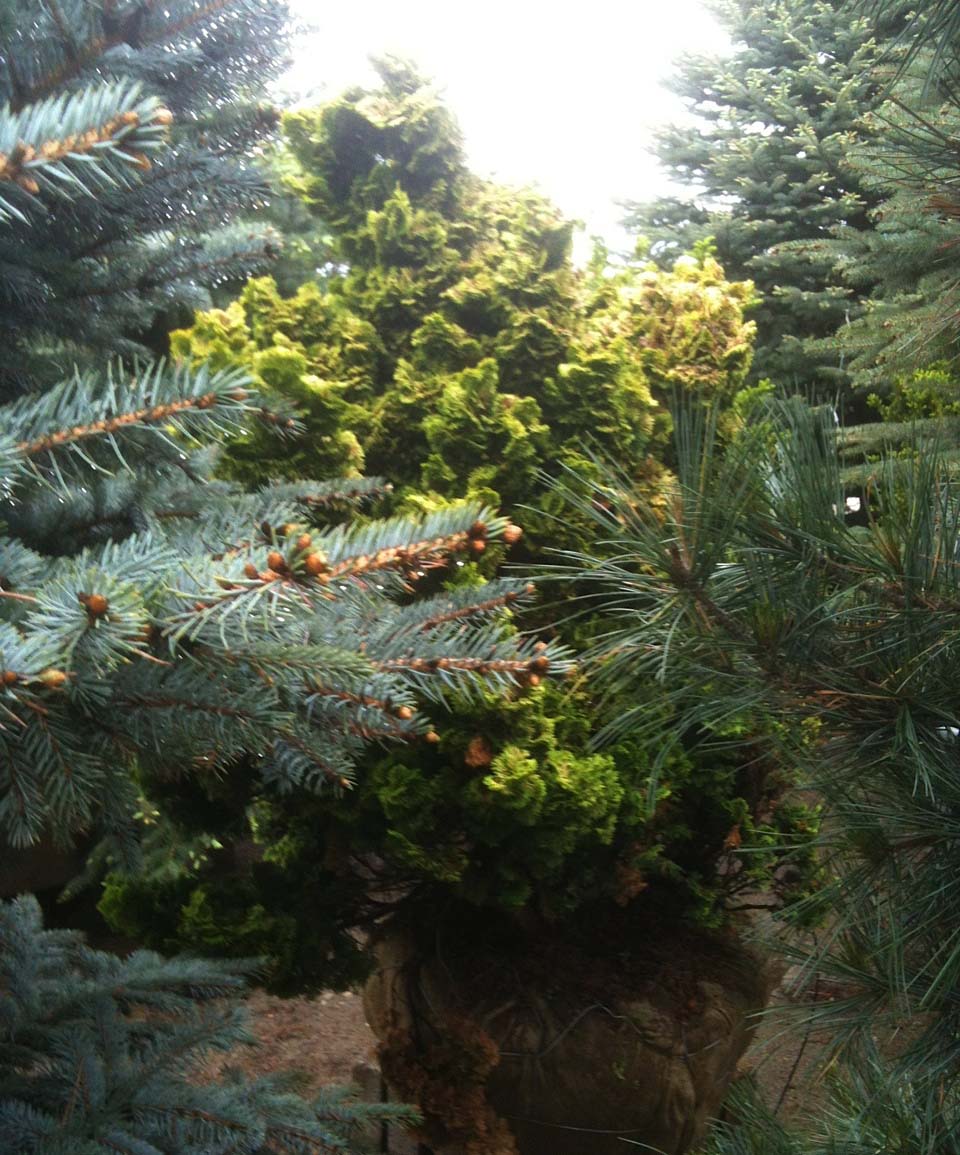 Evergreen trees such as this fir (Abies sp.), white pine (Pinus strobus), and cypress (Chamaecyparis obtusa 'Aurea') can be useful—and elegant—windscreens along the north side of a property. Photographed by JMMDS at Millican Nurseries in Chichester, NH.