By Julie Moir Messervy
The anticipation of spring makes us all antsy for fresh projects, plantings, and new inspiration as we watch the snows slowly melt away around us.  One source for the last is the delivery to our studio of three new gardening books, each of which contains a personal connection to JMMDS.

L: The Complete Kitchen Garden
by Ellen Ecker Ogden. C:
Houseplants Are Houseguests: Tips for Indoor Garden Success
by Anne Moore. Photo: Amazon. R:
The Artful Garden: Creative Inspiration for Landscape Design
by James van Sweden and Tom Christopher. Photo: goodreads.com.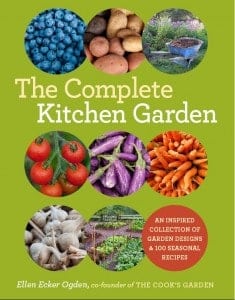 Ellen Ecker Ogden's new book, The Complete Kitchen Garden (New York:  Stewart, Tabori & Chang, 2011) features our very own Anna Johansen's garden in this fresh new take on an old subject.  Cookbook author and co-founder of The Cook's Garden seed company, Ellen is a colleague who lives in nearby Manchester, Vermont. The "Salad Lover's Garden," the "Four Friends Garden," and 12 other kitchen garden themes are beautifully photographed by Ali Kaukas with charming watercolor plans by Ramsay Gourd, supported by Ellen's easy-to-read prose and useful explanations.  Images of Anna's garden are scattered throughout (see page 222 for a breathtaking overall view!). Also included in this 250-page full-color book are dozens of delightful recipes—who wouldn't want to try Asparagus Soup with Coconut Lemon Crème!!  I can't wait until summer finally arrives!
I spent the weekend trying out recipes from Ellen's book (since our 3' of snow on the ground doesn't allow me to try out the garden ideas themselves…!).   I can now say from personal experience that her Butternut Squash Bisque is an elegant winter soup whose color, texture, and spicing is exceptional.  Add in her Spinach Salad with Warm Bacon Dressing and end the meal with her Apple Crisp with Almond Topping, and you'll be as happy as my guests were this weekend.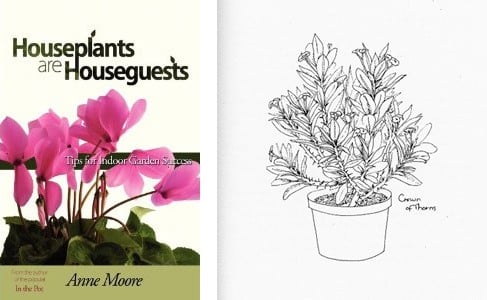 L:
Houseplants Are Houseguests
by Anne Moore. R: Inside are charming line drawings, such as this Crown of Thorns, by Rebecca Saunders.
I'll admit it; when an alumna from my Alma Mater writes, I always respond!  Anne (Wellesley '56) Moore's Houseplants are Houseguests (Tucson: Wheatmark, 2011) addresses a host of topics that everyone who's ever killed an indoor plant should know.
Anne writes, "A collection of houseplants is a gathering of personalities, as different from each other as people can be."   This is a metaphor that I understand and have certainly espoused myself in all my books; it's fun to think about plants this way.  She goes on to say, "In our homes, they are our guests."  Anne believes that you need to understand a plant's origins and thus try to duplicate nature by providing what it needs.  Simple but effective line drawings by Rebecca Saunders illustrate the text.
Anne describes all manner of plants from "wild" bromeliads to Hoya carnosa, advises "putting up with Mother-in-Law's Tongue," and even extols spider plants "for fun and smiles." Her chapter "I Love a Mystery" reads like a detective novel as she talks about how to battle sooty mold.  This 133-page book is chock-a-block full of tips for indoor garden success.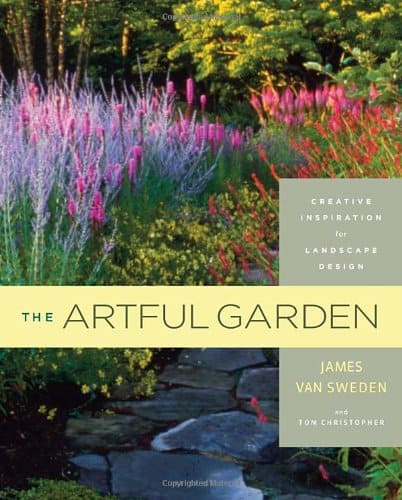 Two colleagues whom I also consider friends—landscape architect James van Sweden and writer Tom Christopher—have teamed up to produce a most elegant new book called The Artful Garden:  Creative Inspiration for Landscape Design (New York:  Random House, 2011).  This is an old-fashioned hardcover tome full of sophisticated ideas and advice from one of the great contemporary masters in our field.  Jim, together with his partner Wolfgang Oehme, pioneered the "New American Garden" style, which emphasizes planting in large swaths of perennials, native plants, and grasses.  In these pages, he explains the influence painting, sculpture, music, and dance have had on his landscape designs over his 30-year career.  The result is an interwoven tapestry of personal anecdotes, guided visits to artists' gardens, interviews with other design professionals (including one with Yo-Yo Ma and me about the Toronto Music Garden), and Jim's elegantly phrased thoughts about the effect of shadow, color, line, and texture on landscape design.  Here's an example:
Twist the end of a path into the dim obscurity of a stand of tall shrubs or trees to add an element of mystery.  Place a rugged boulder in a sun-drenched spot where its roughly shadowed surface will contrast with the finer textures of enclosing herbs—rosemary and thyme, sage and oregano.  Be aware of the light in your garden and use to the fullest all the shadows, colors, and textures it creates. (p. 57)
One of my favorite books is Russell Page's The Education of a Gardener. This book will join its ranks because I—and others like me—will always be eager to learn the secrets of great garden design from a master.  In the Epilogue, Jim explains his journey:
What this book has described is not a method but rather a voyage of discovery—if, as a gardener and designer, you set off down this road, you'll find it never ends.  You won't want it to end—my own experience has been that the trip is wonderful in itself.  Not only will your experiences with music and the other arts enhance your gardening, but what you accomplish with trowel and spade will enrich the pleasure you find in other arts. (p. 183)
This certainly mirrors my own experience as a landscape designer.  How lucky Jim, Tom, and I have all been to realize our passions in our chosen profession and to be so lucky as to leave behind evidence, in the form of writing and gardens.  I treasure this book and hope you will as well.