By JMMDS
Lushly-photographed, inspiring garden design books—we all love them! Here are our suggestions for what to give the garden-lovers in your life this holiday season (or to request for yourself!).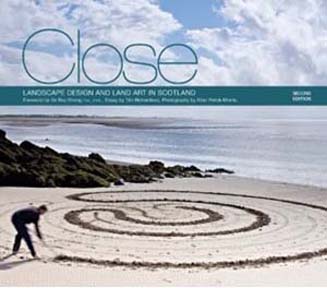 Julie:
Good things sometimes come in big packages from unknown sources. Two months ago, we received a thick, full-color book entitled Close: Landscape Design and Land Art in Scotland, photographed by Allan Pollok-Morris. It arrived with no card, but its return address was from the Chicago Botanic Garden in Glencoe, IL. Luckily, I had lectured many times at the CBG, so I emailed its director, Sophia Siskel, to find out who had sent me such a mysterious gift. She soon solved the mystery—it was sent to me by the photographer himself, whose work was on view there from April through September of this year. The exhibit will be on display at the United States Botanic Garden from January 25 to June 5, 2011, and will feature talks from various plantspeople, designers, and artists.
Allan's beautiful large-format volume is a throwback—in the best sense of that word—to a time when books were still published and collected as works of art themselves. Close opens with a definition of the word that's from the Scottish dialect for "a landscape so inspirational that heaven seemed closer to earth in that place." A handsome map color-codes each designer's name and geographic location, and chapters are organized around lines of latitude, giving a place-sensitive consistency to the whole. For instance, sculptor and photographer Andy Goldsworthy lives at 55° N, as does Charles Jencks and his Garden of Cosmic Speculation.
In his foreword, Dr. Roy Strong describes Allan's images as "a hymn to the Scottish garden." As both gardener and Scot, I am stirred by what this "massive, gaunt and verdant landscape" inspires in its designers. As Tim Richardson's essay suggests, each photograph of a designer's creation "can be conceived as phials of meanings and feelings which are cracked open when we encounter them, pervading the air around us."
Jana:
Though my gardening books will always have a special place on my bedside table, Organic Gardening magazine has been a favorite lately. Having a busy life with so many kids' activities, work, and volunteer projects to juggle, I find that the format of the magazine is just perfect…lots of interesting facts, full articles on seasonal topics, advice from other readers, inspirational stories, and even recipes! I appreciate learning about the newest trends and issues in the organic gardening world. No matter where I need to be, I can roll up the magazine and take it with me. The best thing about giving the gift of a magazine is that your gardening friend will appreciate it all year long, with each and every issue. (I know, because I have been on the receiving end as well…thanks, Dad!)
Jennifer:
I love gardens of all shapes and sizes, but my personal favorites always tend towards the old-fashioned, lush, abundant, and chaotic. I like roses climbing the walls, jam-packed borders backed by hollyhocks and delphiniums, kitchen gardens spilling over with self-seeding annuals. I bought Suzy Bales' Down-to-Earth Gardener: Let Nature Guide You to Success in Your Garden when it came out in 2004, and it has remained one of my favorites. Bales' prose is both conversational and whimsical, and often downright practical and specific. She gives the genus, species, and cultivar names of the plants shown in Richard Warren's gorgeous photos, so it's easy for readers to locate the plants they want. Filled with delectable pictures of the kind of gardens I love and loaded with pragmatic advice, this book migrates back and forth from the coffee table to my potting bench to my bedside table and is never far from reach.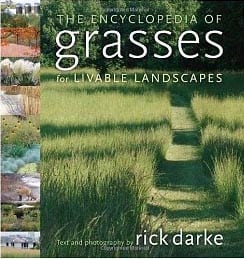 Erica:
A change has taken place in the landscape of my mind's eye. Grasses have moved into the forefront of my plant lists, offering enduring structure, long-lasting stability, and year-round interest to even the most traditional perennial gardens. As companion plants, you can't beat them. There are wide selections of native species for whatever planting zone you want. They tend to have good disease and deer resistance. Some might say that grasses are "the new flower."
That being said, Rick Darke's Encyclopedia of Grasses for Livable Landscapes has become an indispensable garden design resource. As far as I can tell, Rick Darke is to grasses as Michael Dirr is to trees, and the Encyclopedia of Grasses is, dare I say, a necessary "compendium."
The book came out in 2007 but I don't see it becoming old news any time soon. Its dreamy images of abundant meadows and grassy gardenscapes are stimulating if not titillating. Each page with vivid color photos that highlight the grasses' attributes and illustrate a variety of design applications. The text fills in where the photos leave off. Imagination does the rest.
Anna:
If you have a love for both the science and the poetics of horticulture but are also plagued by falling asleep while reading at bedtime (something that I rarely even attempt in the summer months), Hortus Miscellaneous: A Gardener's Hodgepodge of Information & Instruction will be a wonderful companion. Authors Lorene Edwards Forkner and Linda Plato seem to have written it for that very genre of reader, one who likes to read a page or two while eating breakfast or waiting for the oil change, or one who is frequently interrupted. Not only can one find out "How to Candy a Violet" and "Create Wholesome Friendships in the Garden" through companion planting, but also the "Molecular Structure of Chlorophyll," the many garden uses for lemon juice, "How Plant Collectors Died…or Almost Died," and the plant list for Sissinghurst's White Garden. This book fascinated me and will always have a place in my suitcase or bedside table.
I have just asked for Martin Crawford's Creating a Forest Garden: Working with Nature to Grow Edible Crops for Christmas because when I saw it at the bookstore, I couldn't put it down. It is chock-full of lists and growing information for both unusual and common plants that are beneficial to soil quality and biodiversity as well as our taste buds. This book is very current, as more and more of us are looking into ways of turning our outdoor areas into gardens that not only nourish us but also our environment.
And may we also humbly suggest…
Julie's award-winning book Home Outside: Creating the Landscape You Love is for gardeners and non-gardeners alike—the perfect companion for fireside winter dreaming and guaranteed to fill you with ideas and inspiration for spring!
The Toronto Music Garden: Inspired by Bach was released to celebrate the 10th anniversary of the Music Garden, which Julie created in collaboration with cellist Yo-Yo Ma. The book includes descriptions of the gardens and the process, plant lists, and ravishing photographs…the next best thing to visiting the garden itself.
You can buy signed copies of both books here.
So…what are your favorite gardening and landscape books? Please post a comment and share your recommendations!