by Kay McConnell & Julie Moir Messervy
Armed with information and ideas from Julie's 2005 Landscape Design Retreat and 2006 Stone Workshop, and inspired by JMMDS' work at Mt. Holyoke College, workshop participant Kay McConnell, along with the dedicated members of the Guilford Garden Club, set out to transform Friends School of Baltimore's grounds into a place of wonder for students, faculty, and wildlife. Kay and Julie tell the story of how it all came together:
L: 1904 Staircase at Mt. Holyoke College shown at Julie's 2005 Landscape Design Retreat inspired a similar garden filled with Chesapeake Bay Watershed native plants at Friends School (R). Photos: L: JMMDS; R: Heidi Blalock.
Kay:
My work at Friends School unofficially began in the last moments of Julie's 2005 Landscape Design retreat. As a panicky public speaker, I had no idea what I would say at the final retreat meeting when each attendee was asked to comment about what we hoped to accomplish as gardeners. I was surprised to hear words pouring out of my mouth about the utmost importance of sharing the joy of creating and experiencing gardens with the next generation.
Back in Baltimore, I looked upon the Friends School campus where I had been dropping off and picking up my children for 14 years with fresh eyes. I saw beautiful land and architecture, including a new environmentally sensitive Arts and Crafts style Middle School building, surrounded by wastelands of mulch and institutional plantings. Perimeter woodlands and interior gardens were overrun with exotic plants invasive to the Chesapeake Bay Watershed.
The Middle School community was experiencing growing pains in its expansive new environment; even my usually cheery then-8th grade daughter seemed out of sorts, and she longed for the cozy, cramped space that they had previously occupied. A few days later, three beautiful shade and shelter-loving native trees were planted in open sites that were not ideal for their growth requirements. They began to look unhappy, too. Good intentions were crying out for knowledgeable support.
L: Planting opportunities abound around the new Middle School; R: Guilford Garden Club members dig and plant with students, teaching proper planting practices. Photos: L: Kay McConnell; R: Heidi Blalock.
Emboldened by the energy of the Design Retreat, I recognized a terrific opportunity to combine garden design, native plants, and education to ease the transition into the new Middle School as well as to provide a habitat for wildlife that had been displaced by the school for years—literally recreating the "home outside" (sorry–as a native plant and nature lover, I can't resist that twist on the name of Julie's book. A perfect companion text is Bringing Nature Home by Doug Tallamy, which encourages the use of indigenous plants in home landscapes).
L & C: Asters, Aronia, Rudbeckia, Asclepius, and Panicum provide color, texture, sustenance, and shelter year round; R: Previous year's growth is cut back in the spring when new growth emerges at the school's celebration of Earth Day. Photos: Heidi Blalock.
Happily, the Friends School administration, faculty, and the membership of the Guilford Garden Club (GGC), which includes two Landscape Designers and two Landscape Architects, were willing to take on the challenge. Together, we agreed upon a plan for GGC members to design garden spaces, shop for locally grown native plants, and supervise the school community on planting days. Lower School science teacher David MacGibeny wrote a series of grants to the Chesapeake Bay Trust, and with CBT support and an investment of both dollars and elbow grease by the school, 3,750 native trees, shrubs, grasses, ferns, and perennials have been planted over the past five years. Another 700 have been sold at three campus native plant sales to be planted in home gardens. Throughout this process, Julie and I have kept in touch:
Julie:
In 2008, I received the following email: "The entire school community has worked very hard on the planting and care of the new garden areas. Currently, some members of the senior class are submitting design ideas for a staircase that will be the senior class gift to the school and a new extension of the native plantings. The staircase is at the very heart of campus and is the route that everyone on campus travels to all assemblies and to the Stony Run Meeting House to attend Meeting for Worship–definitely an important "journey" experience. I am on the planning committee, and I was hoping to be able to show the students pictures of other staircases to help inspire them. I remember photos of the 1904 Staircase at Mt. Holyoke from Julie's lectures . . ."
L: Julie instructs Kay in a boulder placement miniature at the 2006 Stone Workshop; R: Upper School students and Guilford Garden Club members plant trees, shrubs, and grasses in December, 2008. Photos: L: Steve Jonas; R: Heidi Blalock.
Kay:
I had my eye on the staircase site for our daughter's class gift, but the class of 2008 beat us to it. Luckily, because of the GGC's work on the Native Plant Teaching Gardens, I was invited to attend a planning meeting. I came equipped with photos of the 1904 Staircase at Mt. Holyoke that I had seen in Julie's lectures, as well as my well-worn copies of The American Woodland Garden and In Harmony with Nature: Lessons from the Arts and Crafts Garden, both by Rick Darke. I showed the committee of parents, students, administrators, and the school architects, Ziger/Snead, LLC, photos of waterfalls from the books and the staircase Julie designed to introduce the concept of a flow, both of water and people, through the only opening between the buildings of upper and lower campus. The students articulated a desire for intimate gathering places and were very concerned about adding more hardscape to a campus that had recently undergone so much construction.
L: Concept sketch showing movement and views; R: Boulder placement and woody and grass planting plan. Sketch: Kay McConnell; Plan: Ziger/Snead, LLC, Elizabeth Wolfe Reed, L.A, Ann Lundy, L.D., JeanMellott, L.A., and Kay McConnell.
The architects answered their desires and concerns with a plan that included sitting walls extending into gardens on either side of the staircase, and the Guilford Garden Club designers created a planting plan that included boulders for seating and diverting water flow, and trees and underplantings that would thrive on the sharply draining slope and in the moist dip at the base. It was a thrill to put to use the material I learned in Julie's Stone Workshop, and I knew that our design was successful when during planting a young man stopped, looked around, and declared, "This is turning into a mystical forest!"
L: Boulders placed by European Landscapes and Design engulfed in Iris versicolor and Solidago 'Fireworks'; R: Oxidendrum arboreum, Itea virginica 'Merlot', and Panicum virgatum 'Shenandoah' blaze in school color red in autumn. Photos: Heidi Blalock.
Julie:
Later she wrote, "You will be pleased to hear that we have come up with "The Big Idea": Slopes and Swales–using gardens and the lay of the land to direct and absorb water as it travels through the bowl shaped campus down to Stony Run, a creek that forms its western boundary. In addition to the gardens that we have already planted, we hope to design and install seven more, all based on the theme of the movement of water."
L: Swale garden after its first rain; R: 18 months later, Ilex verticillata has almost doubled in size. Photos: Heidi Blalock and Kay McConnell.
Kay:
Two more important gardens were added to campus in 2008 and 2009. The first is a "swale garden" designed for an area at the base of the sloping Middle School lawn with a drainage problem. A 65' x 12' bed full of thirsty plants now provides a beautiful solution to absorbing water that previously caused flooding and ice issues.
The second is a vegetable garden installed on prominent and tricky slope along the main entrance to the school. The "Community Garden", designed by the Guilford Garden Club, is a joint project between the school and Stony Run Friends Meeting . Volunteers from both institutions built and planted the garden and harvested over sixty bags of produce that were donated to the CARES food pantry.
L: Landscape Architect Elizabeth Wolfe Reed explains Community Garden design to committee of faculty, students, and meeting members in March 2009; R: Community Garden in August 2009. Photos: Eric Thompson.
Our "Big Idea" continues to evolve. In 2010, new beds were planted around the Lower School Buildings; we designed and the school has begun raising funds for a garden called "The Picnic Glade" to be installed outside of the school's new LEED-certified Dining Hall; and we have started the enormous task of clearing invasives from the campus. As we continue our planning and planting, and as the school community folds the gardens into its daily experience and curriculum, we aspire to become a "conservation campus" for water, energy, and native plants of the Chesapeake Bay Watershed, and a comfortable home for learning and life, inside and out.
Julie:
I'm so thrilled that JMMDS work inspired the Friends School to create a campus of gardens.
Kay:
And I am thankful for Julie's encouragement. I hope our project can inspire more schools to create meaningful outdoor spaces for their students, faculty, and broader human, plant, and wildlife communities.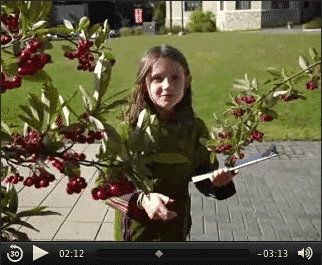 To see how students are using the Staircase Garden, check out this video, Language Arts in the Garden. Video: Judy Sandler.
To learn more about how the Friends School of Baltimore community is working together to maintain and celebrate their gardens, please visit their website or facebook page.
You can also take a look back in time at Friends School's Newsletters from Fall 2007 and Fall 2008, with more about the school's gardens.