All photos by Anna Karina Johansen (unless otherwise noted.)
How about a glass of ginger mint feverfew sun tea sweetened with raw honey?  Or a sour cherry gimlet?  There's nothing like tipping back a refreshing beverage after a long hot day.  Spiked or not, you can leave the lemon and lime at the grocery store and check out these healthy and simple garden-inspired concoctions.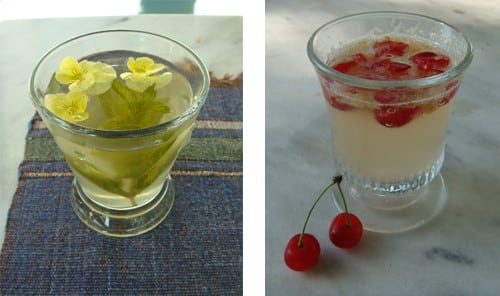 Sun tea (left) is as easy as it comes.  A selection of mints, chamomile or feverfew, a dollop of honey, a few hours of sun in a glass jar, and you will have a wonderful tea.  Garnish with viola or your favorite edible flowers ('Lemon Chiffon' pictured here).  Sour cherries are also in season now.  Try muddling some at the bottom of your glass, adding a shot of gin or vodka, ice and soda water (right.)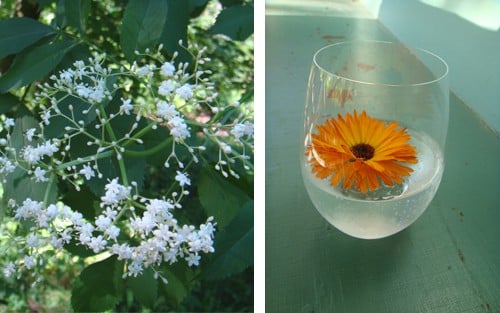 Most cocktails have three or four basic ingredients: soda water, a sweetener and/or flavor, and a shot of liquor.  Simple syrup is exactly what its name implies.  Before taking the syrup off to cool, try adding your favorite herbs and flowers like basil or lemongrass.  Consider replacing simple sugar altogether with maple syrup, raw honey or agave nectar.   A syrup made from Elderflower (above, left) is not only lovely, but has some health benefits as well.  Garnishes can be just as exciting as the drink (calendula flower, above, right.)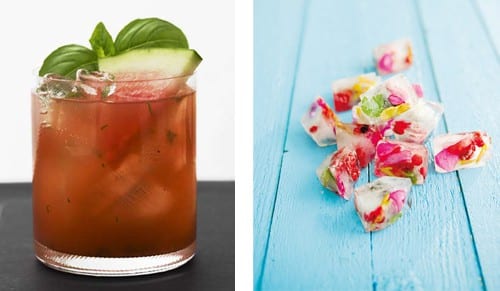 L: Basil Watermelon Cooler (greygoose.com). R: Edible Flower Ice Cubes (pinterest.com).
Try these herbal infusions:
Basil (treats migraines, relieves tension, constipation and insomnia)
Chamomile/Feverfew (digestive, fever-reducing and calming)
Coriander/Cilantro (stimulant and sedative)
Fennel (antidote to flatulence, a diuretic, tonic and sedative, and aids good eyesight)
Lemon Balm (helps nervousness, insomnia, depression and palpitations, headaches)
Lemongrass infusion (sedative)
Mints (antispasmodics and carminatives, remedies for colds)
Sage (aids digestion of rich and fatty foods, natural antiseptic, tonic and stimulant, antidote to fatigue and an antispasmodic)
Tarragon (stimulant, calmative, general tonic)
Other additions:
Berries
Cucumbers
Elderflower (immune system builder, de-tox, relieves allergies)
Nasturtium (rich in sulphur, contains valuable amounts of iron and Vitamin C, tonic, stimulant and aphrodisiac)
Rhubarb: Check out the Vermontito (rhubarb instead of lime, maple syrup instead of sugar!)
Rose Petal or Hip Syrup (rich in Vitamin C, helps inflammation and counteracts destructive effects of antibiotics)
Sorrel (Vitamin A, B and C, used as a diuretic, antiscorbutic, tonic or mild laxative)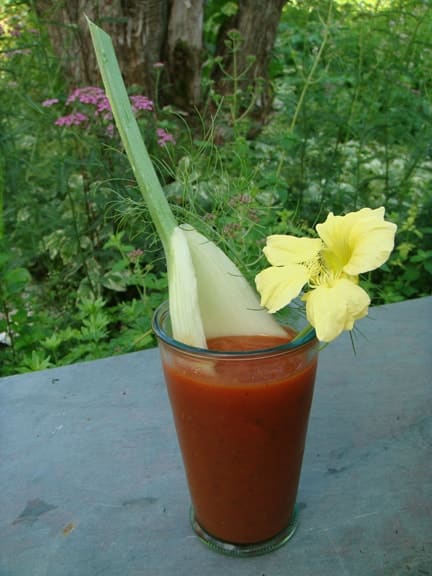 What is your favorite garden beverage? How about a Bloody Mary with heirloom tomatoes, fennel, and nasturtium garnish?
Cheers!